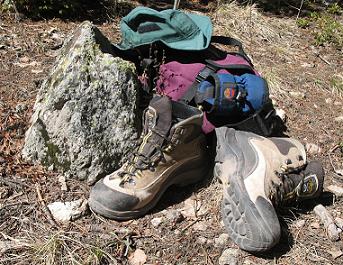 ---
Alan and Jonna's 2018 hikes
Here are some quick reviews and photos of some of our favorite hikes of 2018:

1) Joaquin Miller Park, City of Oakland Open Space, Oakland, CA, January 4, 2018 - We had a lovely walk in the Oakland Hills to kick off our 2018 hikes. Jamie drove us up the hill from his house for a walk through the forest. With views across the bay of downtown San Francisco, tall coastal redwoods, moss covered pines, dew covered ferns and more natural beauty than an area this close to a city the size of Oakland should contain. 3 miles with around 250 feet of elevation gain.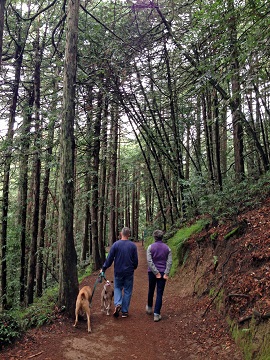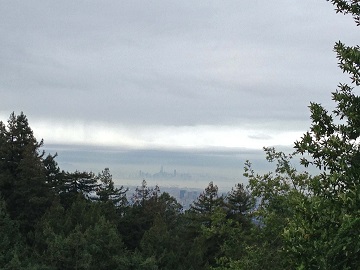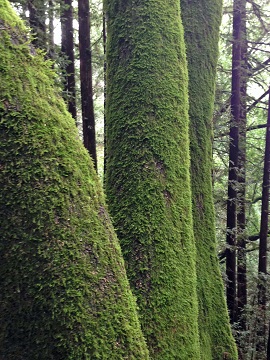 2) West Magnolia trail system, Nederland, CO, January 15, 2018 - Lyle and Alan got together for a holiday weekend hike despite both of us still dealing with the effects of week long head colds. We each required a big cup of caffiene to find the motivation to leave the warm coffee shop where we met and to head out into the 20 degree weather. We headed to the nearest trailhead and did a short loop in the West Magnolia trail system. It wasn't a long hike but it gave us a chance to enjoy the falling snow, see the dark snow clouds hanging over the valley and to get some fresh (and cold!) air into our enflamed sinuses. A 2 mile loop with 150 feet of elevation gain.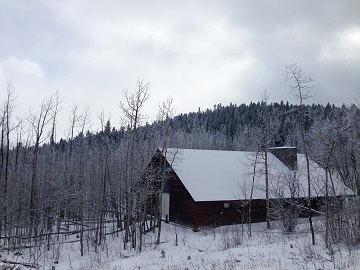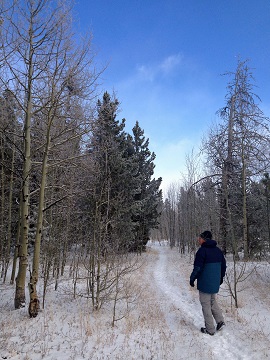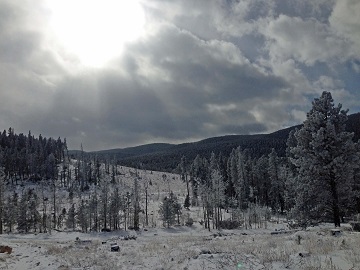 3) Eldorado Canyon trail, Eldorado Canyon State Park, Boulder, CO, January 25, 2018 - Todd, Lyle and Alan finally got together for our first mid-week hike of 2018. We decided to head down to Eldorado Canyon State Park to check out the state of trails there. It was unseasonably warm but still quite icy after snow earlier in the week. We put on micro-spikes and started climbing up the Eldorado Canyon trail. The views down into the canyon and west to the Continental Divide were fantastic - snow-covered ridges, one above another, climbing over 1,000 feet above the trailhead. We hiked all the way through to where it connects to the Walker Ranch trail system then turned around and back-tracked to the car. A good hike with my good friends. 6.7 miles out and back with a respectable 1,800 feet of elevation gain.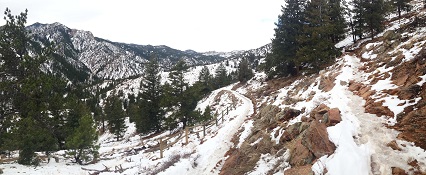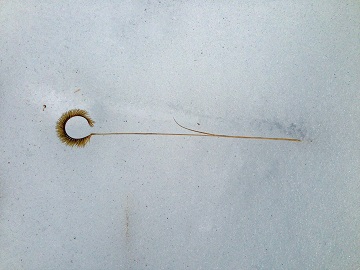 4) South Boulder Creek trail, West Trailhead, Boulder Open Space & Mountain Parks, Boulder, CO, January 28, 2018 - Lyle, Jonna and Alan got together on a cold and windy weekend for our weekly hike. In an effort to find a few extra degrees of warmth we headed down out of the mountains to hike the Marshall Mesa trails in Boulder but found that trailhead closed. For a backup plan we headed across the street to the South Boulder Creek West trailhead and hiked there. The temperature was nice but the wind got stronger and stronger as we hiked until eventually we threw in the preverbial towel. Still, a hike along the front range is always scenic and the slushy snow on the trail provided a little extra work-out. 3 miles with a mild 200 feet of elevation gain.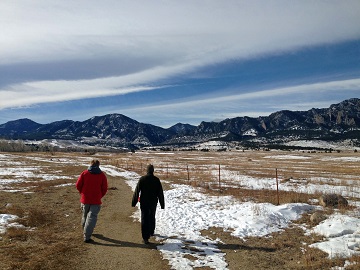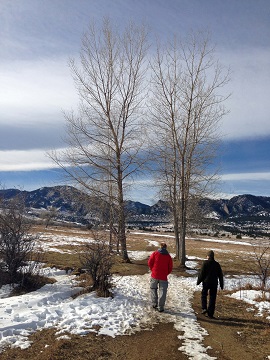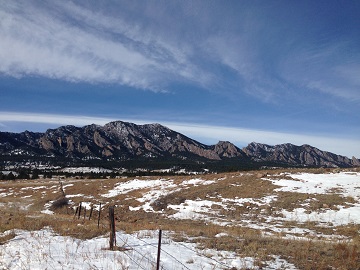 5) Bright Trail, Johnny Park trail system, Pinewood Springs, CO, February 1, 2018 - Neither snow nor rain nor heat nor gloom of night stays these hikes from the exploration of their appointed trails... or something like that. Todd, Lyle and Alan headed out into the tail end of a snow storm for a Mid-week Retiree Hiking Club outing. Todd volunteered to show Lyle and Alan some of the trails near his home so we headed up the snow-covered 4X4 roads into Johnny Park to where the road was blocked for the winter. From there we climbed up Tom's Trail into the national forest for a long, cold loop that connected to the north end of the Bright Trail. We explored a little of that trail, until the freezing wind turned us back, and then returned to the trailhead via an unnamed mountain bike trail that climbed to the top of the highest hill in the area. We hiked through snow clouds and hiked through forests of trees that were fully encased in frost. It was really spectacular...and really cold. Did I mention the cold? 9.5 miles with 2,150 feet of elevation gain.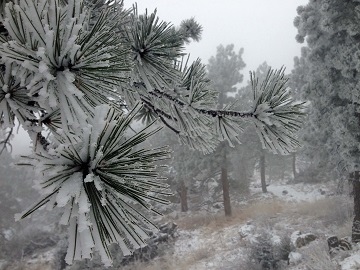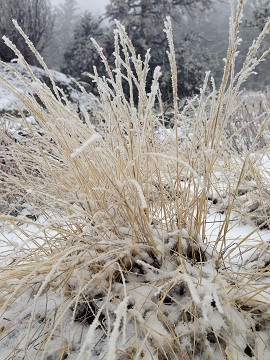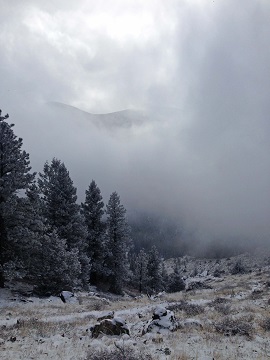 6) Mount Sanitas, Boulder County Open Space & Mountain Parks, Boulder, CO, February 8, 2018 - It is that time of the year again - time for the spring training hikes up the five mountains around Boulder. Lyle and Alan kicked off the annual tradition by hiking up Mount Sanitas - the easiest of the five hikes. We started at Settler's Park, hiked over Red Rocks trail to the Mt. Sanitas trailhead. Then went up Dakota Ridge to the trail that climbs the eastern face of the mountain and from there up to the summit. The wind blew us down the southern ridge back to the trailhead and we hiked back over to Settler's Park trailhead via the Anemone Trail. The big thing we noticed this year was the complete lack of snow and ice... This made the hiking easier but really highlights how dry the winter has been. 4.5 miles with 1,500 feet of elevation gain.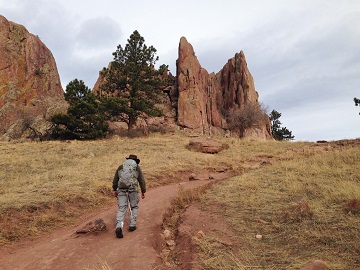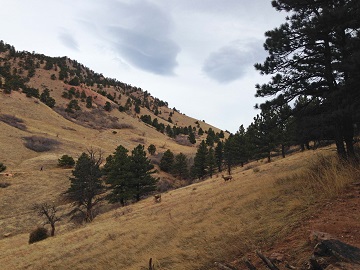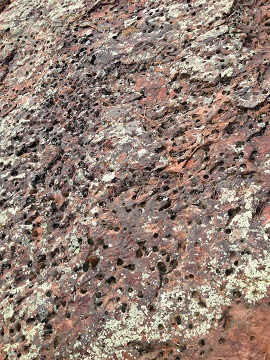 7) Shanahan Ridge, Boulder County Open Space & Mountain Parks, Boulder, CO, February 11, 2018 - Jonna and Alan had plans down in Boulder that prevented us from doing a long hike but we still made time to meet up with our friends Desiree and Gaelin for a morning hike in one of the Boulder Open Space Parks. We were worried it would be cold and windy but clear skies allowed the warmth of the sun through which made for nice hiking weather. We started at the Shanahan Ridge trailhead and did a little loop that climbed up the Shanahan North Fork trail, turned south along a short section of the Mesa trail, then dropped back down part of Shanahan South Fork trail to a little connector trail that bridges back to the original North Fork trail. A nice combination of trails snaking up through the forest just west of Boulder with some clear views of the Flatirons and good way to kick off our first 2018 hike with Desiree and Gaelin. 3.7 miles with 800 feet of elevation gain.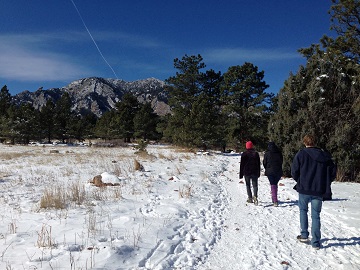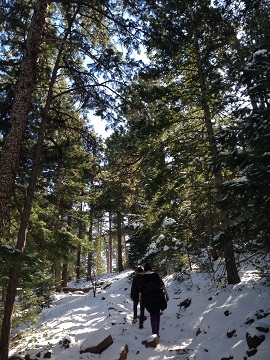 8) Flagstaff Mountain, Boulder County Open Space & Mountain Parks, Boulder, CO, March 1, 2018 - The Mid-week Retiree Hiking Club's...uhhh...mid-week hike...is back. Todd, Lyle and Alan met up in Boulder and then headed up. Specifically, we knocked out the second of the five spring training hikes by climbing Boulder's Flagstaff Mountain. We decided to take the northern route by parking at Eben G. Fine Park and then hiking up via the Panorama Point trail, then meeting up with the Flagstaff trail to the summit. Once on top we hiked a little loop up top via the Rangeview and Ute trails, then decended back the way we came up. Thanks to the unseasonably warm weather and clear skies we even got a big dose of Vitamin D to go with our views of Boulder and the Continental Divide. 6.6 miles with 1,700 feet of elevation gain.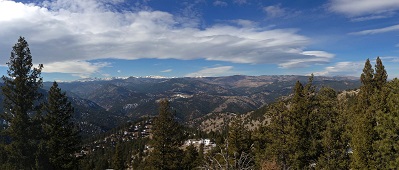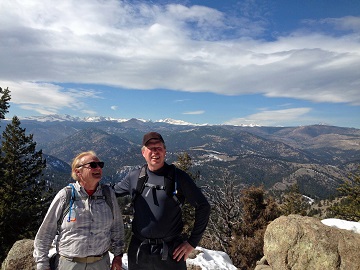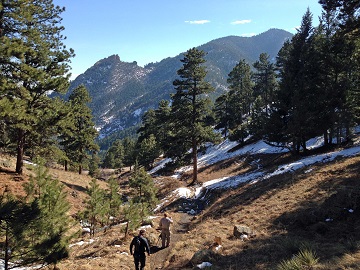 9) Emerald Lake, Rocky Mountain National Park, Estes Park, CO, March 11, 2018 - Our friend Roar's daughter Idun is in Denver this winter as an exchange high school student from Norway. We brought her up to our house this weekend so she could get a little taste of the mountains. The highlight was our taking her up to Rocky Mountain National Park to hike in the stunning landscape there, specifically by hiking from the Bear Lake trailhead past Bear Lake, Nymph Lake and Dream Lake to the trail's eventual end at Emerald Lake. We had great weather for venturing into the high country and the snow-covered mountains looked gorgeous. 3.5 miles up and back down with 700 feet of elevation gain.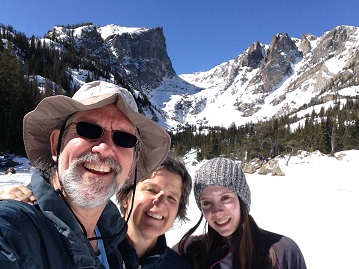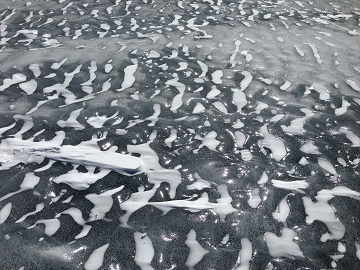 If you enjoyed these you may also enjoy checking out some photos from our 2017 hikes.

Return to Alan's Hiking Page

Return to Alan's Home Page
---
Alan Fleming