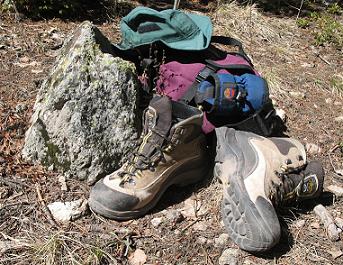 ---
Alan and Jonna's 2018 hikes
Here are some quick reviews and photos of some of our favorite hikes of 2018:

1) Joaquin Miller Park, City of Oakland Open Space, Oakland, CA, January 4, 2018 - We had a lovely walk in the Oakland Hills to kick off our 2018 hikes. Jamie drove us up the hill from his house for a walk through the forest. With views across the bay of downtown San Francisco, tall coastal redwoods, moss covered pines, dew covered ferns and more natural beauty than an area this close to a city the size of Oakland should contain. 3 miles with around 250 feet of elevation gain.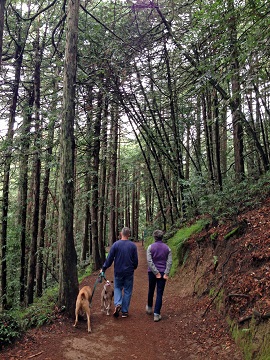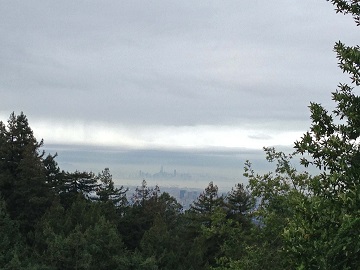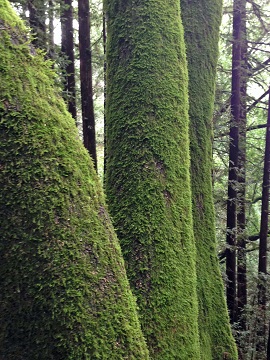 2) West Magnolia trail system, Nederland, CO, January 15, 2018 - Lyle and Alan got together for a holiday weekend hike despite both of us still dealing with the effects of week long head colds. We each required a big cup of caffiene to find the motivation to leave the warm coffee shop where we met and to head out into the 20 degree weather. We headed to the nearest trailhead and did a short loop in the West Magnolia trail system. It wasn't a long hike but it gave us a chance to enjoy the falling snow, see the dark snow clouds hanging over the valley and to get some fresh (and cold!) air into our enflamed sinuses. A 2 mile loop with 150 feet of elevation gain.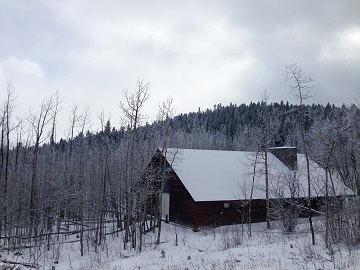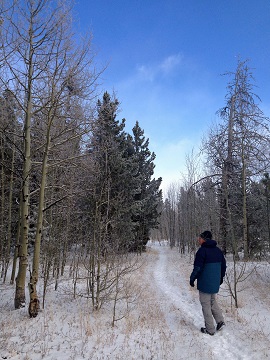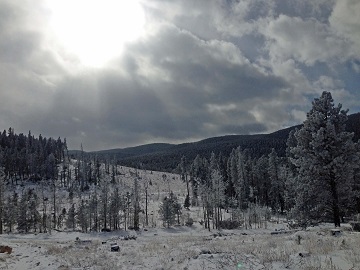 3) Eldorado Canyon trail, Eldorado Canyon State Park, Boulder, CO, January 25, 2018 - Todd, Lyle and Alan finally got together for our first mid-week hike of 2018. We decided to head down to Eldorado Canyon State Park to check out the state of trails there. It was unseasonably warm but still quite icy after snow earlier in the week. We put on micro-spikes and started climbing up the Eldorado Canyon trail. The views down into the canyon and west to the Continental Divide were fantastic - snow-covered ridges, one above another, climbing over 1,000 feet above the trailhead. We hiked all the way through to where it connects to the Walker Ranch trail system then turned around and back-tracked to the car. A good hike with my good friends. 6.7 miles out and back with a respectable 1,800 feet of elevation gain.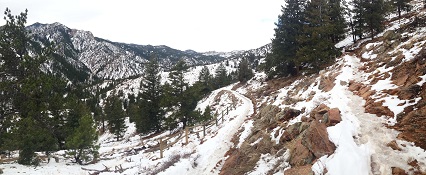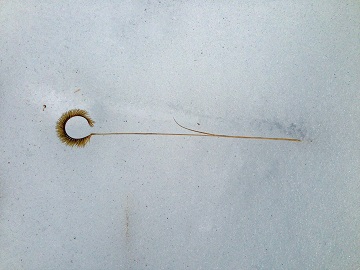 4) South Boulder Creek trail, West Trailhead, Boulder Open Space & Mountain Parks, Boulder, CO, January 28, 2018 - Lyle, Jonna and Alan got together on a cold and windy weekend for our weekly hike. In an effort to find a few extra degrees of warmth we headed down out of the mountains to hike the Marshall Mesa trails in Boulder but found that trailhead closed. For a backup plan we headed across the street to the South Boulder Creek West trailhead and hiked there. The temperature was nice but the wind got stronger and stronger as we hiked until eventually we threw in the preverbial towel. Still, a hike along the front range is always scenic and the slushy snow on the trail provided a little extra work-out. 3 miles with a mild 200 feet of elevation gain.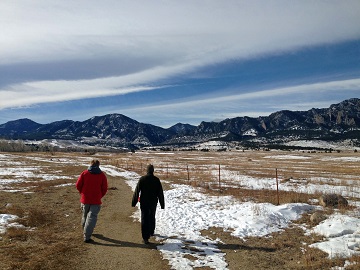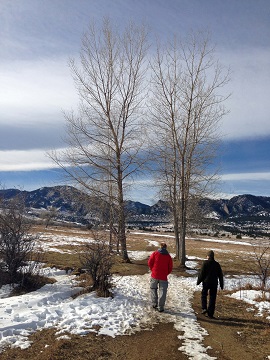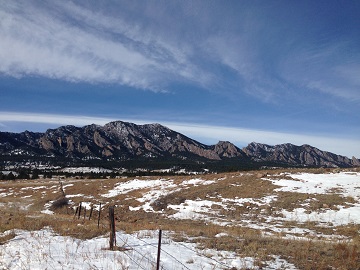 5) Bright Trail, Johnny Park trail system, Pinewood Springs, CO, February 1, 2018 - Neither snow nor rain nor heat nor gloom of night stays these hikes from the exploration of their appointed trails... or something like that. Todd, Lyle and Alan headed out into the tail end of a snow storm for a Mid-week Retiree Hiking Club outing. Todd volunteered to show Lyle and Alan some of the trails near his home so we headed up the snow-covered 4X4 roads into Johnny Park to where the road was blocked for the winter. From there we climbed up Tom's Trail into the national forest for a long, cold loop that connected to the north end of the Bright Trail. We explored a little of that trail, until the freezing wind turned us back, and then returned to the trailhead via an unnamed mountain bike trail that climbed to the top of the highest hill in the area. We hiked through snow clouds and hiked through forests of trees that were fully encased in frost. It was really spectacular...and really cold. Did I mention the cold? 9.5 miles with 2,150 feet of elevation gain.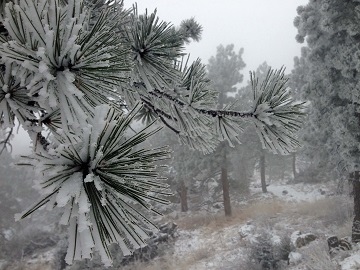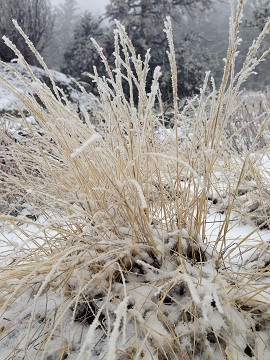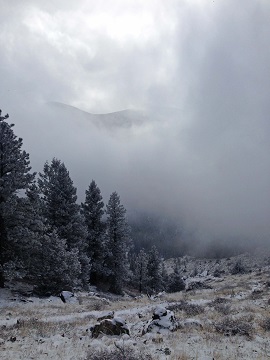 6) Mount Sanitas, Boulder County Open Space & Mountain Parks, Boulder, CO, February 8, 2018 - It is that time of the year again - time for the spring training hikes up the five mountains around Boulder. Lyle and Alan kicked off the annual tradition by hiking up Mount Sanitas - the easiest of the five hikes. We started at Settler's Park, hiked over Red Rocks trail to the Mt. Sanitas trailhead. Then went up Dakota Ridge to the trail that climbs the eastern face of the mountain and from there up to the summit. The wind blew us down the southern ridge back to the trailhead and we hiked back over to Settler's Park trailhead via the Anemone Trail. The big thing we noticed this year was the complete lack of snow and ice... This made the hiking easier but really highlights how dry the winter has been. 4.5 miles with 1,500 feet of elevation gain.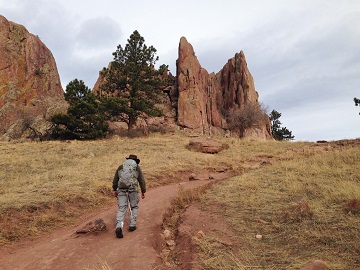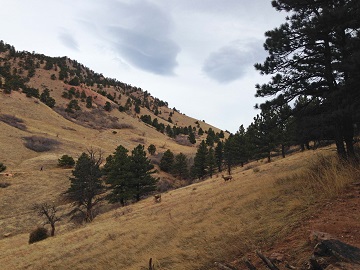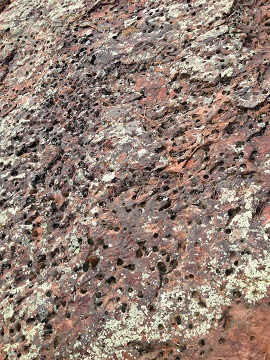 7) Shanahan Ridge, Boulder County Open Space & Mountain Parks, Boulder, CO, February 11, 2018 - Jonna and Alan had plans down in Boulder that prevented us from doing a long hike but we still made time to meet up with our friends Desiree and Gaelin for a morning hike in one of the Boulder Open Space Parks. We were worried it would be cold and windy but clear skies allowed the warmth of the sun through which made for nice hiking weather. We started at the Shanahan Ridge trailhead and did a little loop that climbed up the Shanahan North Fork trail, turned south along a short section of the Mesa trail, then dropped back down part of Shanahan South Fork trail to a little connector trail that bridges back to the original North Fork trail. A nice combination of trails snaking up through the forest just west of Boulder with some clear views of the Flatirons and good way to kick off our first 2018 hike with Desiree and Gaelin. 3.7 miles with 800 feet of elevation gain.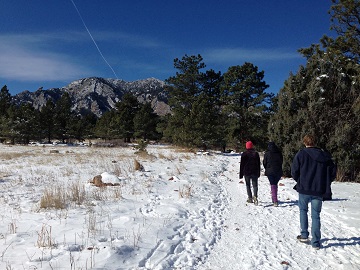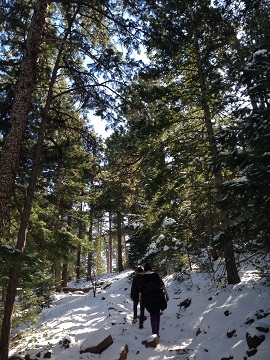 8) Flagstaff Mountain, Boulder County Open Space & Mountain Parks, Boulder, CO, March 1, 2018 - The Mid-week Retiree Hiking Club's...uhhh...mid-week hike...is back. Todd, Lyle and Alan met up in Boulder and then headed up. Specifically, we knocked out the second of the five spring training hikes by climbing Boulder's Flagstaff Mountain. We decided to take the northern route by parking at Eben G. Fine Park and then hiking up via the Panorama Point trail, then meeting up with the Flagstaff trail to the summit. Once on top we hiked a little loop up top via the Rangeview and Ute trails, then decended back the way we came up. Thanks to the unseasonably warm weather and clear skies we even got a big dose of Vitamin D to go with our views of Boulder and the Continental Divide. 6.6 miles with 1,700 feet of elevation gain.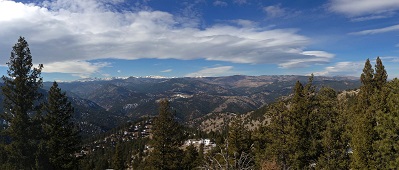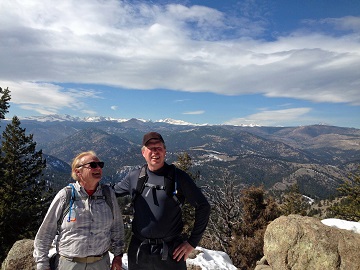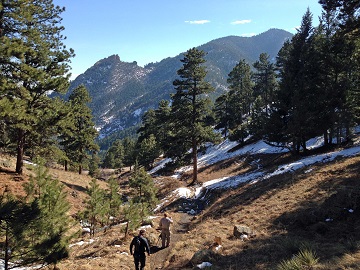 9) Emerald Lake, Rocky Mountain National Park, Estes Park, CO, March 11, 2018 - Our friend Roar's daughter Idun is in Denver this winter as an exchange high school student from Norway. We brought her up to our house this weekend so she could get a little taste of the mountains. The highlight was our taking her up to Rocky Mountain National Park to hike in the stunning landscape there, specifically by hiking from the Bear Lake trailhead past Bear Lake, Nymph Lake and Dream Lake to the trail's eventual end at Emerald Lake. We had great weather for venturing into the high country and the snow-covered mountains looked gorgeous. 3.5 miles up and back down with 700 feet of elevation gain.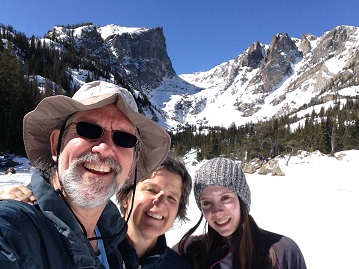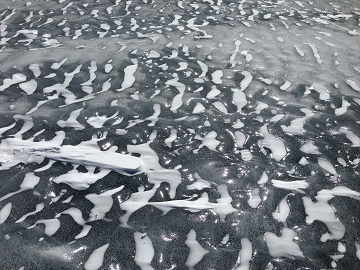 10) Red Rocks and Fruita Trails, James M. Robb Colorado River State Park, Fruita Section, Fruita, CO, March 29, 2018 - Jonna and Alan decided to take advantage of Jonna's Spring Break to test out our camping gear for our upcoming summer vacation trip. We left home in a snow storm and drove over to the west side of the state to find some warmer weather. Specifically, we set up camp in the James M. Robb Colorado River State Park campground in Fruita. In order to see a little of the park we went out for an afternoon walk to see both of the park's hiking trails. We had a pleasant stroll along the Colorado River where we saw lots of ducks, geese, doves, red-winged blackbirds and plenty of other birds. 3.0 miles but almost complete flat with just 50 feet of elevation gain.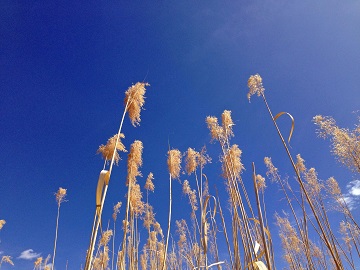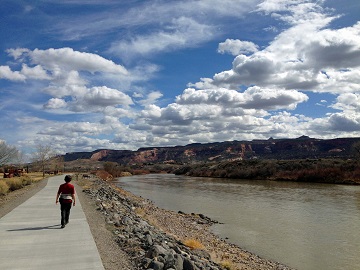 11) Coke Ovens Trail, Colorado National Monument, Fruita, CO, March 30, 2018 - We chose Fuita for our camping trip specifically because we love nearby Colorado National Monument so much. For our one full free day of the mini-trip we drove through the park stopping to do some of the short hikes along the Rim Drive. The highlight was the trail out to the Coke Ovens overlook which gave a stunning panoramic view of Monument Valley. The Coke Ovens trail was just 1.1 miles out and back with 150 feet of elevation gain. The other trail we hiked, Window Rock, added another mile of hiking with probably another 50 feet of elevation.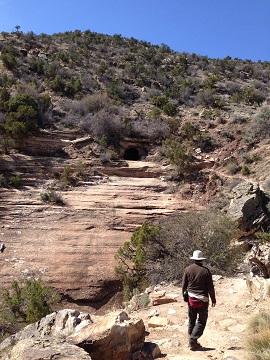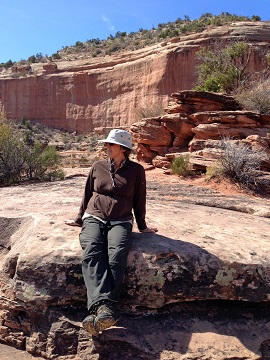 12) Green Mountain, Boulder Open Space & Mountain Parks, Boulder, CO, April 5, 2018 - After slacking for a few weeks, Lyle and Alan got together to resume our annual spring training hikes. With two down the next one on the list was Green Mountain. We normally do the Hikin' O' The Green for St. Patrick's Day but we're running a few weeks behind schedule this year...Nonetheless, it proved as icy in April as it historically has in March. We started at the bottom of Gregory Canyon and climbed up via the Amphitheater, Saddle Rock and Greenman trails, then came back down via Ranger and Gregory Canyon. It was overcast and windy but we still had some nice scenic views both down onto Boulder and west onto the snow-covered Divide. As is often the case, the beautiful Pasque flowers were just peeking their heads out of the thawing ground to prove that spring has arrived. 5.3 miles with 2,500 feet of elevation gain.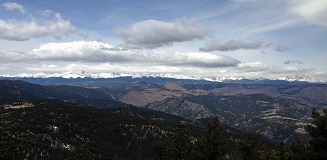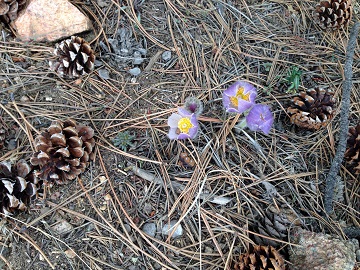 13) Bear Peak, Boulder Open Space & Mountain Parks, Boulder, CO, April 12, 2018 - Lyle and Alan checked spring training hike #4 off the list with a mid-week climbing of Boulder's Bear Peak. This is our favorite of the front range mountains because of how incredible the view is over Boulder and across the eastern plains, as well as the panorama of the Continental Divide to the west. However, it isn't an easy trail so you have to earn it! We started at NCAR, going south on Mesa trail to Bear Canyon. We then did the long climb up Bear Canyon and to the peak via Bear Peak's West Ridge. We spent some time enjoying the perfect hiking weather and the stunning views at the top. We took the express route back down via Fern Canyon and then retraced our path on Mesa Trail back to NCAR. A challenging 8.8 mile loop with 2,700 feet of elevation gain.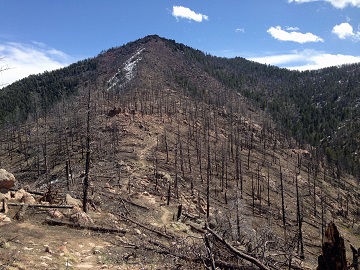 14) Matthews/Winters Park, Jefferson County Open Space, Morrison, CO, April 23, 2018 - The Mid-week Retiree Hiking Club gathered for a combo ride and hike day - spending some quality time with both our motorcycles and our hiking boots. We met in Nederland and then rode some of the mountain canyons down to Morrison. There we hiked a loop in the Matthews/ Winters Park by stringing together a few different trails within the park. A fun way to enjoy the blue skies and weather of spring. 3.1 miles with a very mellow 250 feet of elevation gain.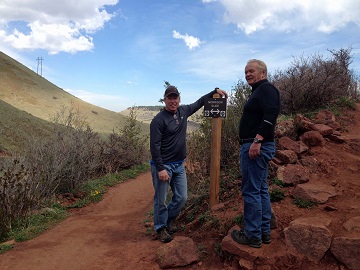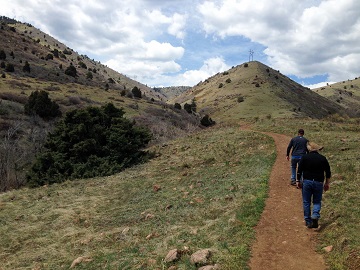 15) Dowdy Draw-FlatIrons Vista North trails, Boulder County Open Space and Mountain Parks, Boulder, CO, May 13, 2018 - Despite the rainy weather we got out for a weekend hike after having taken a few weeks off. Our friends Desiree and Gaelin suggested a new trail (for us) which turned out to be a scenic but crazy muddy choice. The rained turned the silty trail into a slick, sticky mess - we ended up hiking with a few pounds of glue-like mud stuck to our boots! The rain clouds clinging to the Flatirons looked very dramatic and the recent rain turned all the grass a vibrant green. The views were all quite striking and it was great to catch back up with our friends. 3.4 muddy miles out and back with 500 feet of elevation gain.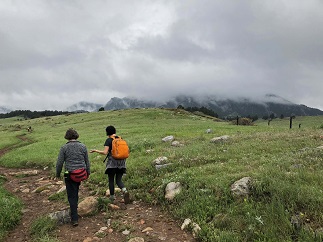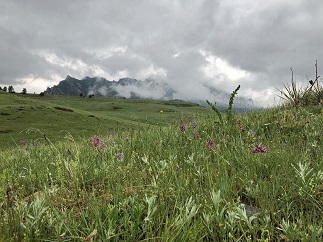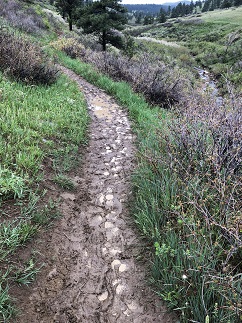 16) Long Trail/Appalachian Trail, Breadloaf Wilderness, Green Mountain National Forest, Lincoln Gap, Warren, VE, May 31, 2018 - We started our two month long summer motorcycle trip out in New England and while in northern Vermont we stopped at Lincoln Gap to hike a little of the Appalachian Trail as it winds through the Green Mountains. We only hiked a short out-and-back section but still it was lovely to hike through the paper-bark birch and poplar forest. As we climbed the mountain going south on the trail we got a sweeping view looking out over the valley to the west. It was great to hike a short section of this historic trail and to experience some of the beauty of the area. 1.2 mile out and back with 325 feet of elevation gain.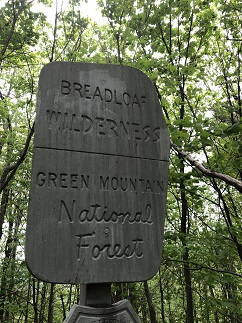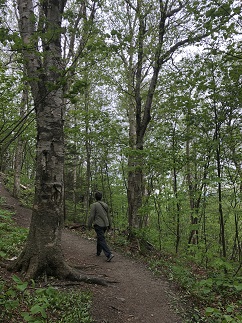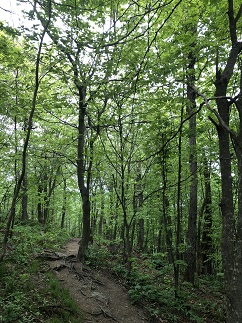 17) Horse Shed Road, Rockefeller-Marsh-Billings National Historical Park, Woodstock, VE, June 1, 2018 - This was really more of a walk than a hike but it was still time spent out in a beautiful woodland conservation area so I'm counting it. We stopped at the Rockefeller-Marsh-Billings National Historical Park to learn about the birth of the US conservation movement and to walk through the some of the forest that is protected within the park. We learned about the place in the visitor center, walked through the mansion and garden and saw some displays in the horse shed. However, the real highlight was walking a loop through the park's maple, spruce, larch and pine forest. 1.3 miles with 300 feet of elevaation gain.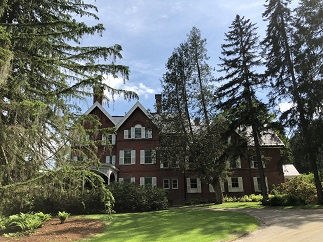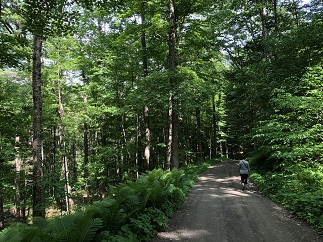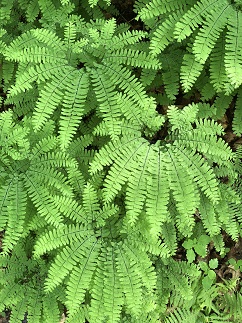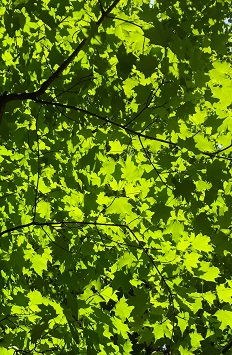 18) Kent Brook Trail/Appalachian Trail, Gifford Woods State Park, Killington, VE, May 31, 2018 - We woke in Killington to a misty, drippy morning so rather than taking a long (wet) ride we decided instead to check out the nearby Gifford Woods State Park. We hiked two different trails, the Kent Brook loop around the visitor center and then an out-and-back hike along Kent Pond on the Appalachian Trail where it goes through the park. Swarms of mosquitos encouraged us to maintain a brisk pace but being in the lush landscape was worth the harassment by the insects. 2 miles with 500 feet of elevation change.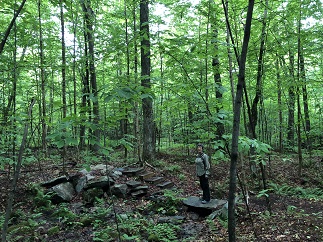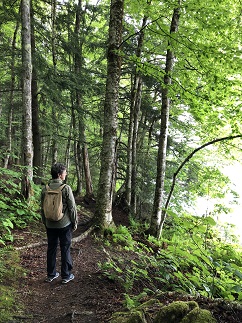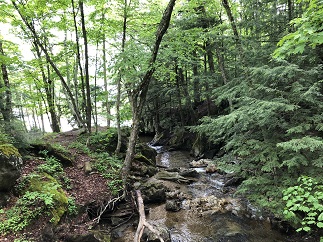 19) Flume Gorge Trail, Franconia Notch State Park, Franconia, NH, June 5, 2018 - While in New Hampshire we wanted to get out and see some of the White Mountains so we stopped in at Franconia Notch State Park to do do a little hiking. The Flume Gorge Trail was a great choice - it offered two historic covered bridges, a boardwalk through a scenic gorge, a cascading creek with a nice waterfall and peaceful loop through the hardwood forest. 2 miles with 400 feet of elevation gain.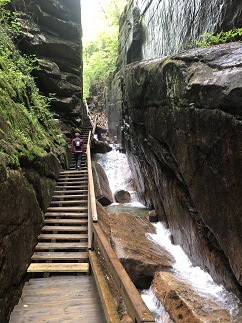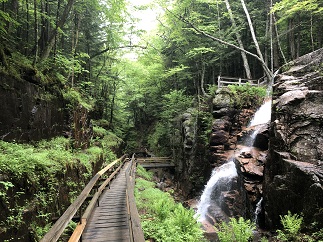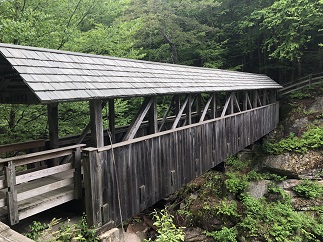 20) Casco Bay Trail/Casco Bay Connector Trail, Wolfe's Neck Woods State Park, Freeport, ME, June 9, 2018 - We stopped in Freeport, Maine to see the LL Bean HQ but were completely turned off by the rampant consumerism of the town. Fortunately, we managed to escape to the nearby Wolfe's Neck Woods State Park where we had a great hike along the rugged Maine coast. We spotted an osprey nest with some chicks peeking over the edge, watched some locals dig clams in the tidal mud, enjoyed the pink lady's slipper orchids poking up through the pine needles and soaked in the tranquility of the pine and hemlock trees. 1 mile with 200 feet of elevation gain.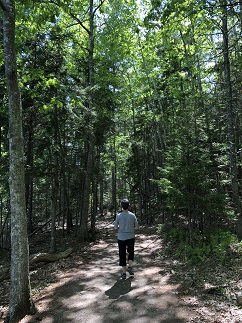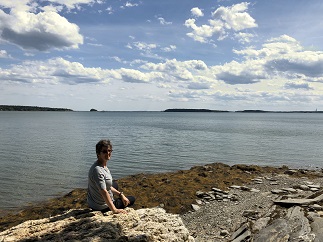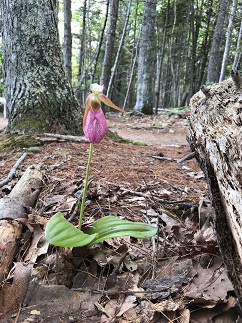 21) Seawall, Wonderland and Ship Harbor trails, Acadia National Park, Bass Harbor, ME, June 12, 2018 - We spent a few days exploring the stunning Acadia National Park but our best hiking day was spent in the southwestern edge of the park near Bass Harbor. We did three short hikes along the coast there at Seawall, Wonderland and Ship Harbor. The highlight of all three were the views along the rocky shoreline - looking through the tidepools, listening to the waves crash on the rocky headlands, watching the seabirds fish in the Atlantic and spotting wild flowers among the thick spruce brambles. 3 miles total with 145 feet of elevation gain.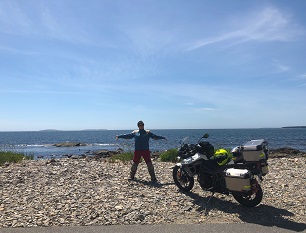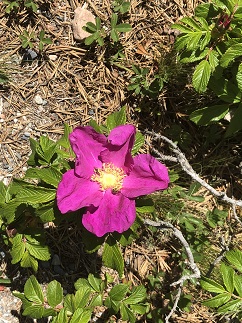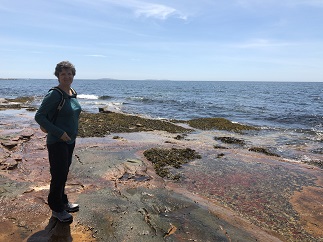 22) Jordon Pond Path Trail, Acadia National Park, Seal Harbor, ME, June 13, 2018 - After a morning boat trip followed by a decadent popover at the Jordan Pond House we decided to stretch our legs (and work off the popover calories) with a loop around Jordan Pond. This was a wonderful setting for a hike - boardwalks have been built over the marshy shore along the western edge of the lake which offers pristine views across the water and of the Bubbles mountains to the north. We originally thought we'd just walk partway but we were enjoying the hike so much we hiked the entire loop. 3.5 miles total with a mild 62 feet of elevation gain.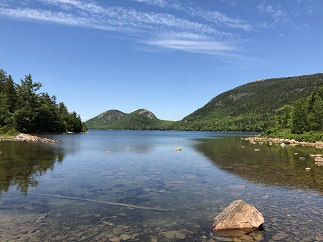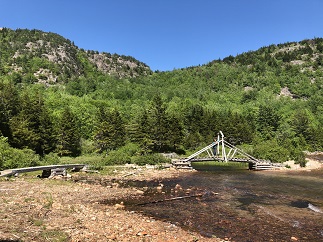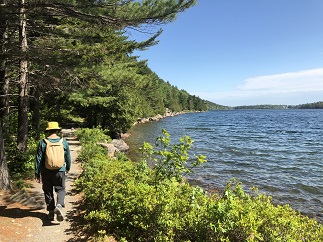 23) Miramichi Treehouse & Camping Adventures Private Trails, Black River, New Brunswick, June 25, 2018 - This was another time when we started out just wanting to stretch our legs but ended up enjoying the area enough that we walked longer and further than we'd originally planned. We reserved a "tree house" (really just a cabin up on stilts) at a campground and noticed some trails marked on the campground map. We braved the swarms of voracious mosquitos to hike down to a nearby creek and see rare old growth white pine there. We enjoyed that area enough that we then kept going by hiking a loop along the edge of the campground through wild section of pine and birch forest. The mosquitos eventually forced us back to the cabin but we still enjoyed a little forest bathing after a long day on the bikes. 1.3 miles with 120 feet of elevation gain.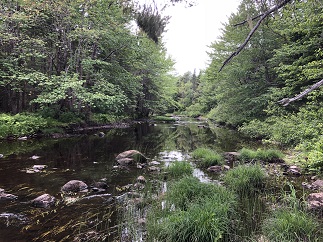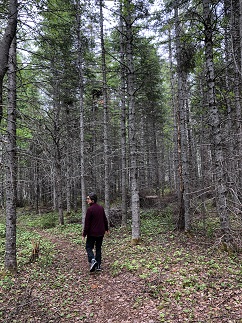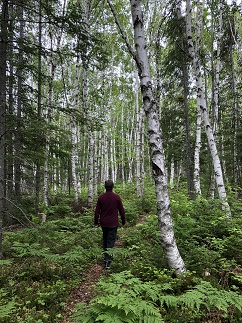 24) Islet Point Trail, Tadoussac, Quebec, June 27, 2018 - Another outing that probably would be more accurately described as a walk rather than a hike but since we did venture out onto a trail for part of it I'm including it on our list of hikes. We arrived in Tadoussac, Quebec early in the afternoon. After checking into our hotel we swapped our motorcycle boots for hiking boots and went out to explore the small town. After walking the main drag and going down to the harbor we veered off onto a hiking trail that looped around the the point where the Saguenay Fjord meets the St Laurence Seaway. This point has been set aside as a nature park and has a number of areas that look out over both waterways. We tried to do some whale spotting, since the entire area is a giant marine reserve, but we weren't successful. The walk was relaxing, the views were sublime and breathing the sea air was refreshing. 2.1 miles with 345 feet of elevation gain.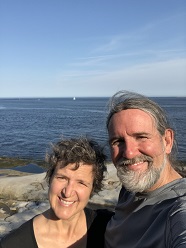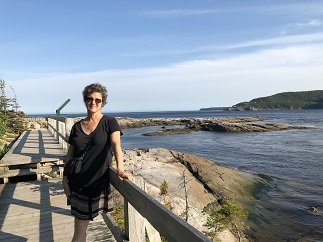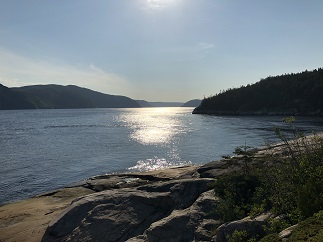 25) Sean Lion Trail and Joe Creek Trail, Sleeping Giant Provincial Park, Silver Islet, Ontario, July 7, 2018 - After nearly two weeks of riding across Canada we took a day off when we got to Thunder Bay, Ontario. In order to explore the area we rode over to nearby Sleeping Giant Provincial Park and hiked two of the trails there. First, we rode out to the southern point, which sticks out into Lake Superior, and hiked the Sea Lion Trail. This was a mix of forest and lake shore hiking which ended at the Sea Lion rock formation that jutted out into the lake. For our second hike, we went up to the north end of the park and hiked the Joe Creek Trail that followed a small creek all the way down to the lake. Most of this trail was mosquito hell but we were lucky to find a little opening in the thick forest where the creek cascaded down smooth rocks. There was just enough of a breeze in this opening to keep the bloodsuckers at bay so we could enjoy a nice, cool picnic while listening to the burble of the creek. 2.5 miles with 150 feet of elevation gain.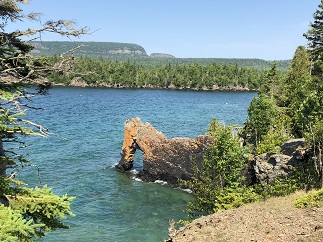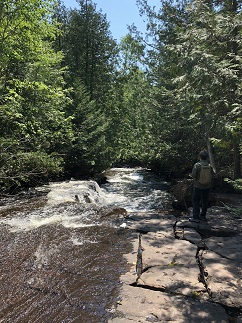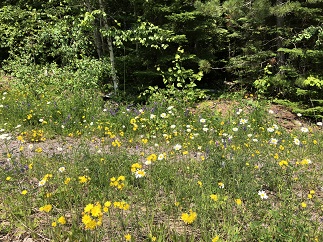 26) Laryx Lake Loop Trail, Sunshine Meadows, Banff National Park, Banff, Alberta, July 14, 2018 - I often use the word "spectacular" when describing hikes in the Rocky Mountains back home in Colorado. Well, given that, I can't possibly use any other word to describe the Canadian Rockies. They may be smaller in height but the lower treeline and sheer density of peaks makes them look more impressive. For our first outing to explore Banff National Park we headed to the ski resort of Sunshine Valley and took their gondola up to the top to hike the trails in Sunshine Meadows. Wow! There was a 360 degree panorama with incredible mountains views all the way around: Jagged mountains, hanging ice fields, glacial lakes, alpine tundra and high altitude pine forest. We spent the morning hiking a loop down to a series of lakes and then climbing back up to the top of the ski lift (all the while being serenaded by the ubiquitous ground squirrels). It was breathtakingly beautiful and scenery that I hope to remember the rest of my life. 3 miles with 900 feet of elevation gain.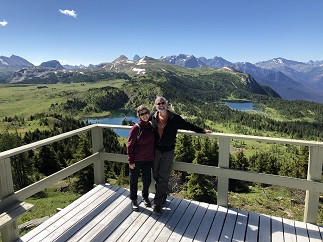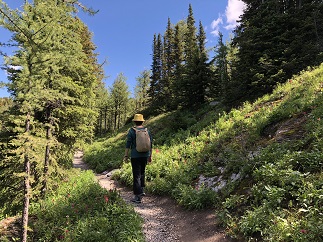 27) Grassi Lakes Trail, Canmore Nordic Centre Provincial Park, Canmore, Alberta, July 15, 2018 - In an effort to see more of the incredible scenery around Banff we headed to nearby Canmore to checkout what we thought was a "locals only" trail in the Nordic Centre park there. Well, the secret has definitely gotten out! It was packed with people. There were two route up to the Grassi Lakes - an easy one and a hard one. We decided to take the hard one and it was a great decision since everyone else went the easy route. We had the longer trail to ourselves and got to see a great view of the waterfall below where the hanging lakes drain off their ledge. However, it did mean we had to make a much steeper climb to get up to the lakes (and crowds). The Grassi Lakes are glacially fed and have a distinctive emerald tint. In fact, they are almost surreal due to both their color and clarity. After enjoying the views we joined the masses and returned via the popular easy route. 2 miles with 565 feet of elevation gain.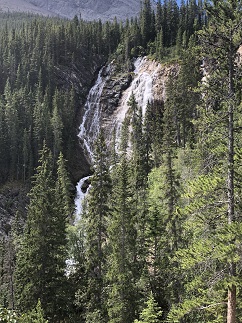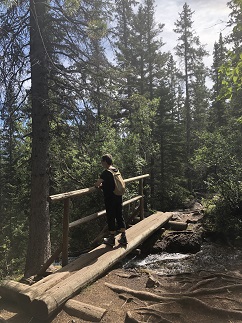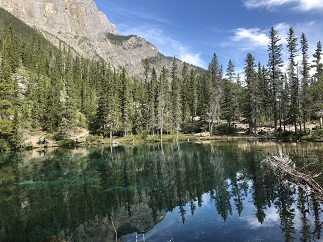 28) Grinnell Lake Trail, Glacier National Park, St. Mary, MT, July 23, 2018 - After the Canadian Rockies we were worried that Glacier National Park might be a let down. Fortunately, our first foray into the park proved that fear was unfounded. We headed into the park at the Many Glaciers valley via a pair of boats on Swiftcurrent Lake and Lake Josephine. At the southern end of Lake Josephine we disembarked (after waiting for a moose to wander away from the dock area) and joined a guided hike that went further up the valley to Grinnell Lake. Along the way we made a side trip to Hidden Falls, then stopped on the shore of Grinnell Lake to take in the magnificent view (and so Jonna could dip her toes into the freezing water). On the way back to the dock we ran into the most unafraid deer we've ever seen... we had to back away from it to keep at arms length! Three stunningly scenic lakes all surrounded by soaring rocky mountains. That was a good day and a great introduction to Glacier National Park! 2.6 miles with 400 feet of elevation gain.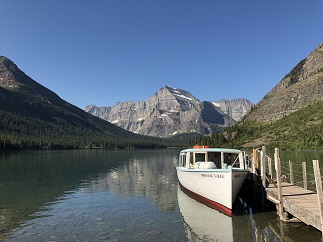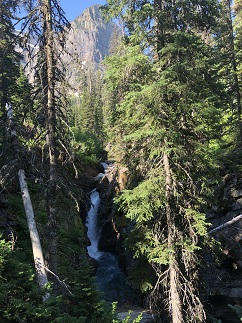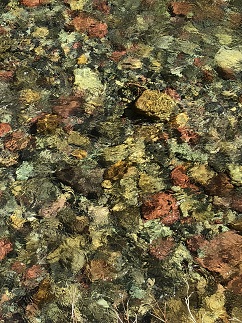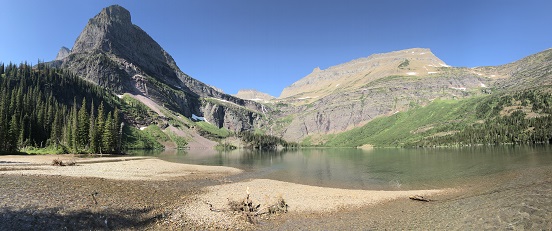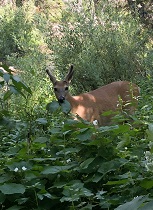 29) Hidden Lake Overlook Trail, Glacier National Park, Logan Pass, MT, July 24, 2018 - The final hike of our 2018 summer vacation was the highlight of the trip...literally. We took one of the free shuttle buses in the park up to the highest point in the park - Logan Pass. From there we hiked over the pass to the Hidden Lake overlook through an alpine meadow known as the Hanging Gardens. Along the way we saw a black bear, two herds of Big Horn Sheep, a herd of Mountain Goats, a Yellow-bellied Marmot and untold numbers of Golden-mantled Ground Squirrels and Least Chipmonks. In addition to the wildlife, the hike offered gorgeous panoramic views on both sides of Logan Pass, a thick blanket of wildflowers growing in the alpine tundra and a bird's eye view down onto Hidden Lake. I'll use that word again - Spectacular! 4 miles with 550 feet of elevation gain.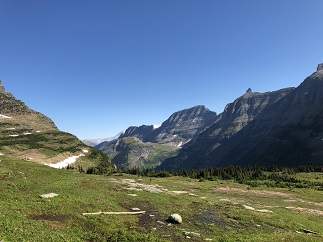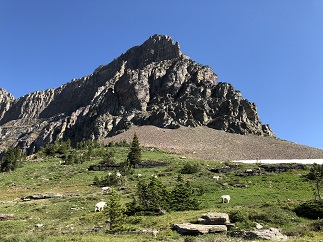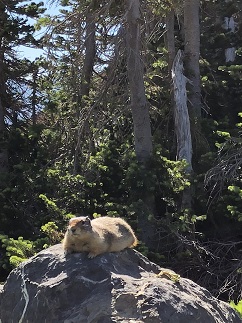 30) Kruger Rock, Hermit Park Open Space, Larimer County Parks & Open Space, Pinewood Springs, CO, September 1, 2018 - For the first hike after getting back from our summer vacation Alan got together with Todd to explore a trail in the somewhat new Hermit Park Open Space. The high point in the park is Kruger Rock so we chose that as our destination. It started to rain just as we arrived at the trailhead and we made the climb with alternating sunshine and bands of rain. Fortunately, when we reached the top the clouds cleared and we had a fantastic 360 degree panorama. The view of Long's Peak, out over Estes Park, south down the Continental Divide and east out onto the plains where all stunning. 4 miles with 1,000 feet of elevation gain.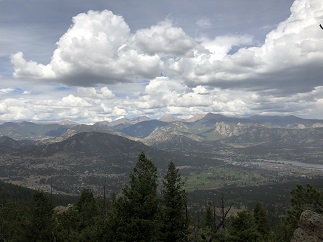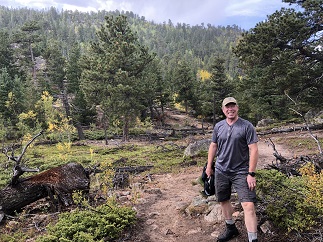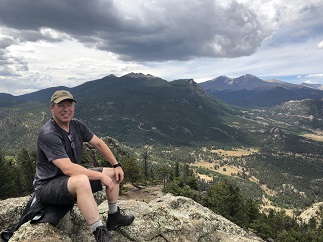 31) Caribou Ranch Open Space, Boulder County Open Space Parks, Nederland, CO, September 19, 2018 - My friends Shawn and Amy were visiting so I brought them over to the Caribou Ranch Open Space to bask in the beauty of the Rocky Mountains. We hiked in on the DeLonde Trail and then did the Blue Bird Loop. Along the way we enjoyed the views of the old Switzerland railroad bed, the Blue Bird mine, the cascades of North Boulder Creek and the DeLonde homestead. It was a beautiful day for hiking and we had a great time catching up. 5 miles with 250 feet of elevation gain.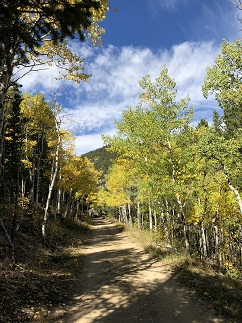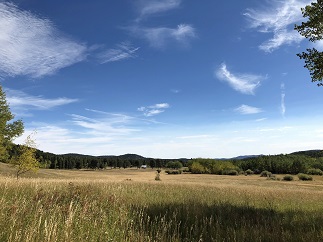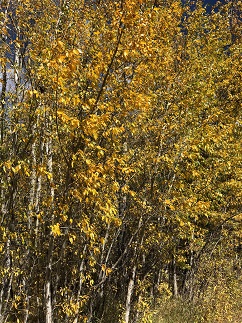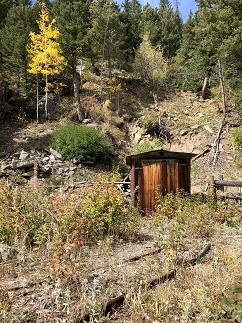 32) Long Lake, Brainard Lake Recreation Area, Ward, CO, September 23, 2018 - We got together with our good friend Desiree and her partner Phillip to celebrate her birthday with a hike in Brainard Lake Recreation Area. It was a perfect day for a hike - A crisp Fall day with a few fluffy white clouds in the sky and colorful leaves still clinging to the trees. This was a rare time when we went for a hike in the late-afternoon so we also got some nice "golden light" as the sun dropped towards the mountains in the west. We hiked the Jean Lunning trail around the south side of Long Lake but we split off from Desiree and Phillip at the trail up to Lake Isabelle. They continued on uphill while Jonna and I returned to the trailhead. A splendid afternoon in the mountains! 3 miles with 125 feet of elevation gain.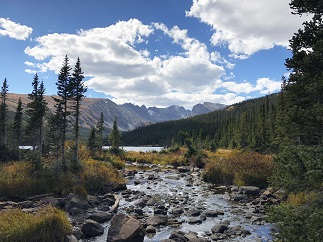 33) Kenny Mountain, Pinewood Springs, CO, September 27, 2018 - For a couple of years Todd has been planning a hike up into the Big Elk Meadows burn area to see how the area has recovered since the forest fire happened back in July, 2002. This weekend we decided it was time to go exploring. Todd, Lyle and Alan found a parking area off County Road 47 and, since there wasn't a trail, we just started going uphill. Between my GPS and Todd's phone map we wound our way up towards Kenny Mountain. It was a steady, steep climb but because most of the burned trees have fallen in the 15+ years since the fire the hillsides are open, grassy meadows so the views were excellent. We eventually worked our way to the top and headed for the peak. After a bit of rock climbing we got to the top...only to realize that we'd picked the wrong peak. The actual top of Kenny Mountain was about 1/4 mile to the north. Nonetheless, the panoramic views we stunning. We chose a different, and as it turns out steeper, route back down to the car. It was a tough hike but the vistas from up top were worth it. 4.8 miles with 2,100 feet of elevation gain.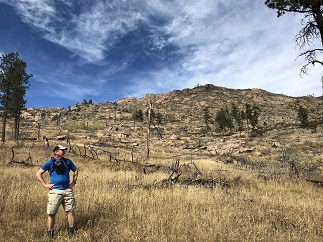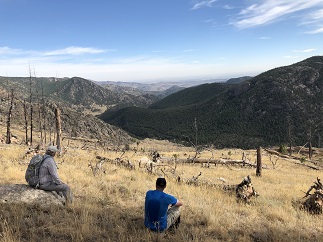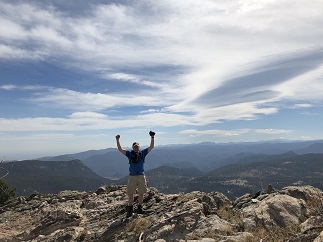 34) East Magnolia trail system, Nederland, CO, September 30, 2018 - We got together with our friends Holly and Rick for a short hike to see the last of the Fall aspen leaves. We headed to our old standby - the east end of the East Magnolia trail system where there are a few large groves of aspens. Sure enough, there were still plenty of gold and yellow and orange leaves on display. We were only out for a quick hike so we just did a walk to and through the main grove before circling back to the car but the crunch of dry leaves, the rustle of the breeze through the trees and the golden glow of sunlight through the tree tops was definitely the way to ring in the changing of the seasons. An easy 2.5 miles with a mellow 150 feet of elevation gain.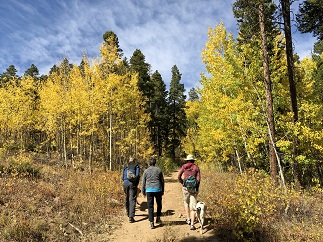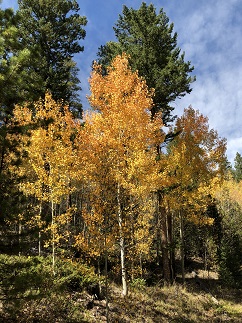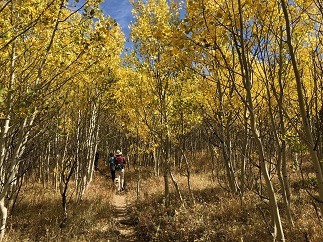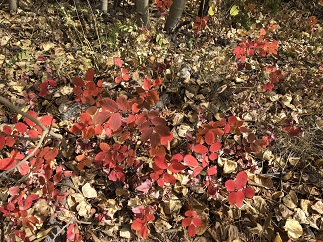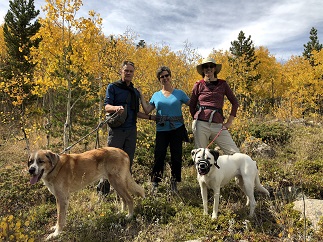 35) East Boulder-White Rocks Trail, North Teller Fram trailhead, City of Boulder Open Space and Mountain Parks, Boulder, CO, October 28, 2018 - After a few weeks without us getting out for any hiking our friend Desiree cranked up our motivation by inviting us to get out for a hike on the peaceful White Rocks Trail just east of Boulder. We meet up in the late afternoon and enjoyed a tranquil hike along Dry Creek and the ERTL ponds. The hawks were out in force circling over the fields looking for critters and flocks of ducks were gathering in the ponds and marshes. A nice hike with beautiful views and some great conversation. 4.7 miles with a gradual 150 feet of elevation gain.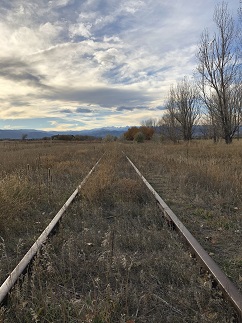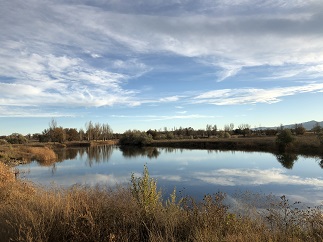 36) West Ridge Trail, Redwood Regional Park, Oakland, CA, November 24, 2018 - The day after a family Thanksgiving gathering Jonna and I got out for a hike in the amazing Oakland hills with Jonna's brother Jamie and our sister-in-law Kelly. We drove to the nearby Redwood Regional Park and parked at the Moon Gate parking area. Despite a steady rain we jumped on the West Ridge Trail and hiked north to the Skyline Gate. We had planned to hike further but the relentless rainfall has worn us down (and drenched us!) so we turned us back and retreated to the warmth of a dry car. Still, it was great to work off some of the Thanksgiving calories and to spend some time communing with the beautiful redwood trees. A mellow (and soggy) 2.5 miles out and back with 400 feet of elevation gain.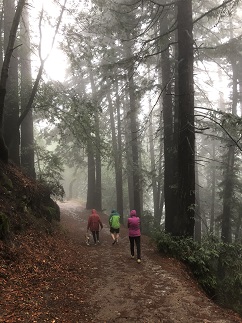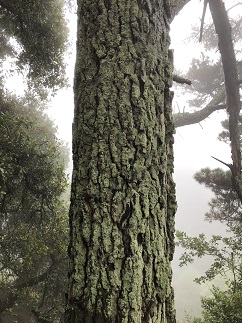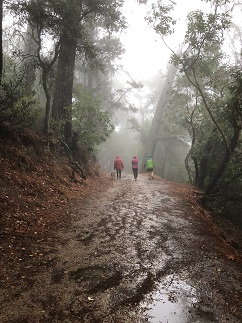 37) Sourdough & Wapiti Trails, Ward, CO, December 10, 2018 - After a week of intermittent snow, Todd and Alan got out on a Monday to play in the winter wonderland that is the front range of the Rockies. Todd wanted to check the conditions on the Sourdough trail south of Beaver Reservoir (to scout for some fat tire mountain biking) so we pulled on our hiking boots, packed up the snow shoes and headed into the mountains. The bulk of the Sourdough trail was packed down enough that we could hike okay but ever few steps we'd post-hole through the crust so it kept us on our toes. When we got to the southern connection with the Wapiti Trail we peeled off Sourdough to hike the loop back to the north. The snow was deeper and softer so we strapped on the snow shoes for a great hike through the back woods. The temperatures hovered just above freezing and we had both sunshine and overcast conditions at various times throughout the hike. The elevation gain made for a good workout but the solitude and beauty made it well worthwhile. 8 miles with 1,200 feet of elevation gain.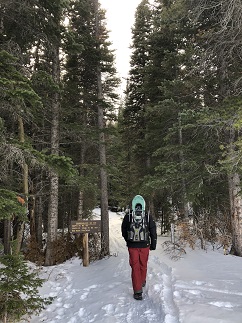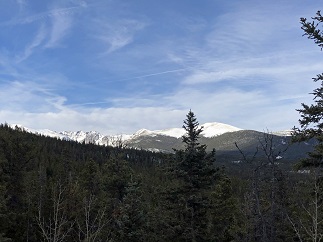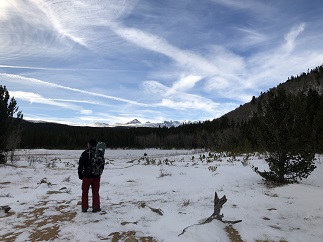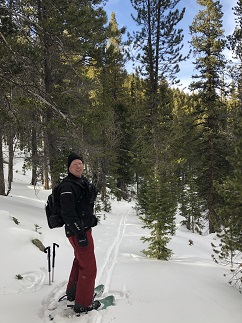 38) Overlook Azelea Trail, Mountain Creek Lake Trail & Lady Bird Johnson Wildflower Trail, Callaway Resort & Gardens, Pine Mountain, GA, December 27, 2018 - For a little post-Christmas exploration Brenda, Harvey, Jonna and Alan drove up to Callaway Gardens to check out the area. While we were there we got out and hiked some of the trails through the gardens in the resort. More specifically, we strung together a series of trails, bike paths and roads in order to hike a loop around Mountain Creek Lake. There were a few manicured areas but what madet his particularly nice was just being able to walk through sections of natural forest. It was a very nice way to spend our first morning in the area. A wandering 4.6 mile loop with a respectable 800 feet of elevation gain.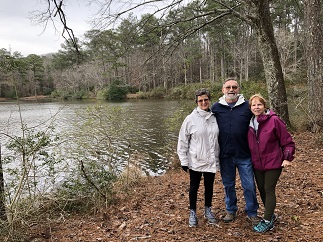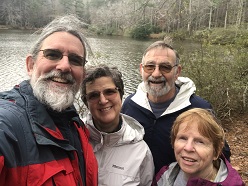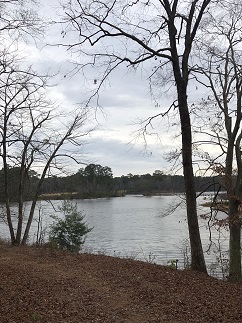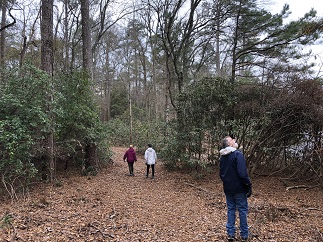 If you enjoyed these you may also enjoy checking out some photos from our 2017 hikes.

Return to Alan's Hiking Page

Return to Alan's Home Page
---
Alan Fleming