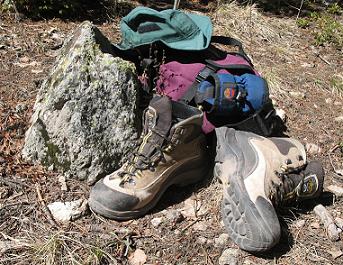 ---
Alan and Jonna's 2017 hikes
Here are some quick reviews and photos of some of our favorite hikes of 2017:

1) Los Lagos Reservoir Trail System, Rollinsville, CO, January 1, 2017 - Jonna and Alan kicked off 2017 with a short hike on New Years Day with our friends Desiree and Holly. We headed to a local favorite, the Los Lagos Reservoir trail system where we crunched and slid our way over the crusty snow and slick ice. We didn't climb quite high enough to get a view of the mountains but, as always, we enjoyed the hike through the impossibly thick pine forest in the area. 2.7 miles with 400 feet of elevation gain.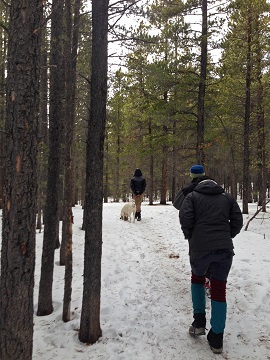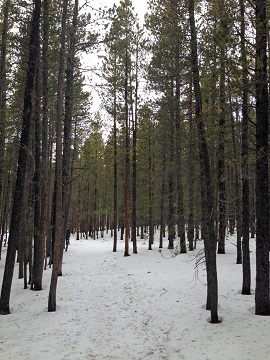 2) Ceran St. Vrain, Jamestown, CO, January 8, 2017 - A big mid-week snow storm blanketed the mountains around Nederland with over 2 feet of fresh powder so this weekend was our first chance this winter to strap on our cross-country skis. Lyle's friend Roger joined us for Lyle's birthday weekend hike. To avoid the blowing wind we decided to head somewhere with a lot of trees and Lyle picked the Ceran St. Vrain trail. Just as we started skiing the sun broke through the clouds which warmed the snow just enough to make it very sticky. We did our best but snow build-up on the skis made it a struggle. Still, the snowy forest along the South St Vrain Creek valley was beautiful so it was a good way to celebrate Lyle's birthday! 2.6 miles with 300 feet of elevation gain.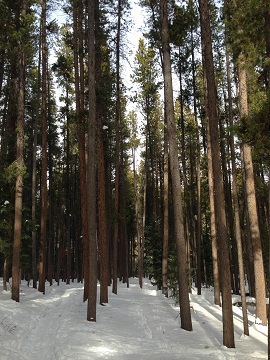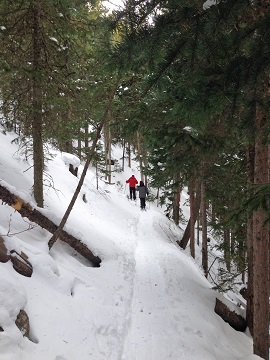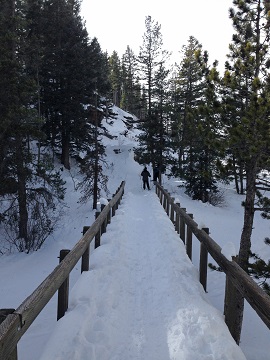 3) Sourdough trail, Brainard Lake Recreation Area, Ward, CO, January 15, 2017 - Desiree again joined our hiking crew this weekend to play in the copious mass of snow that has accumulated over the past couple of weeks. We drove into Brainard Lake Recreation Area winter parking lot, strapped on the snowshoes and headed south on the SourDough trail. The forest was amazing - all the snow in the trees and a grey sky all blended together to really highlight the tree trunks. It was a perfect day to be out in the snowy mountains. 3.1 miles out and back with 250 feet of elevation gain.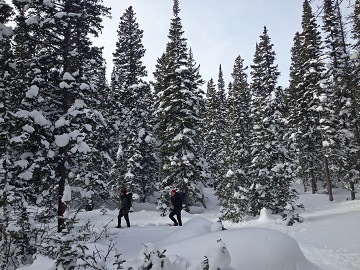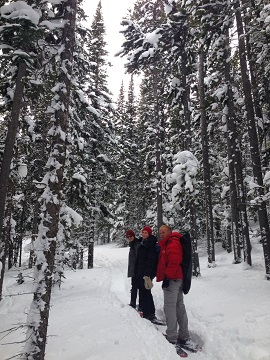 4) Ralston Roost, Golden Gate Canyon State Park, Golden, CO, January 22, 2017 - It was clear but cold and windy this weekend but Lyle and Alan decided to hike anyway. In an effort to get in some elevation training we decided to do one of our favorite hikes in Golden Gate Canyon State Park - the climb up to Ralston Roost on Black Bear trail. The trail was a mixture of packed snow and glass ice which made for tricky footing but also kept away the other hikers. The view from the top onto the Continental Divide was grand but the wind prevented us from enjoying the scene for long. We came back down via the Horseshoe trail which was much more heavily trafficked which contrasted with the relative solitude we'd enjoyed on the first half of the hike. 4.5 miles round trip with 1,300 feet of elevation gain.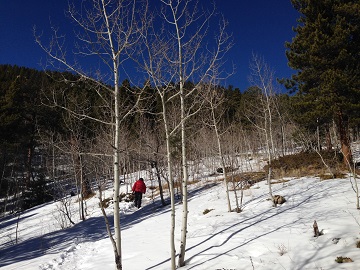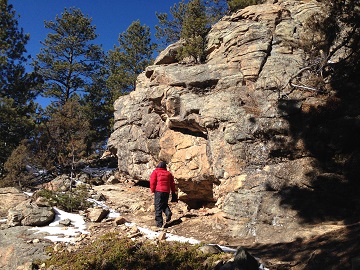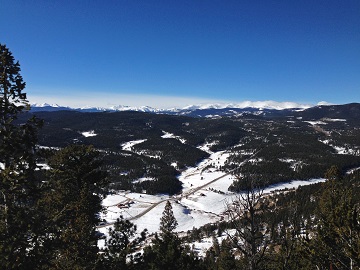 5) Flagstaff Mountain, Boulder County Open Space & Mountain Parks, Boulder, CO, January 29, 2017 - It was just Lyle, Jonna and Alan for this weekend's hike. Since Alan was on call at work we couldn't go to far afield so we decided to hike Chapman Drive up and over Flagstaff Mountain just outside Boulder. Jonna had to turn back early to run some errands but Lyle and Alan continued up the icy west side to the top of the mountain. From there we decended down the muddy east side to Eben G Fine park where we met back up with Jonna. 5.2 miles with 1,250 feet of elevation gain.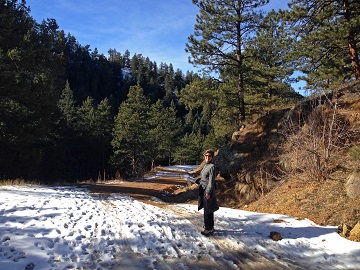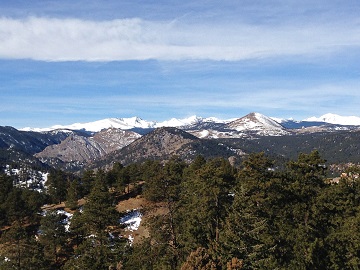 6) Mount Sanitas, Boulder County Open Space & Mountain Parks, Boulder, CO, February 5, 2017 - Our friends Desiree and Gaelin joined the hiking group for the second of our Spring training hikes - Mt Sanitas. We met up at Settler's Park, made the climb over Red Rock's Trail, went up Dakota Ridge and then climbed the east ridge to the summit. From the top we enjoyed the unseasonably warm weather and expansive views out over Boulder. After that we decended the south ridge and returned to the trailhead. 5 miles with 1,500 feet of elevation gain.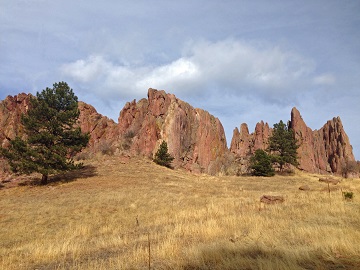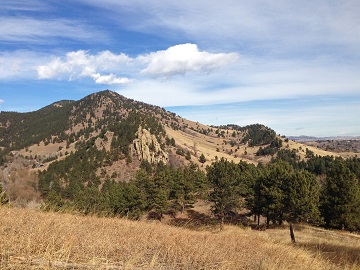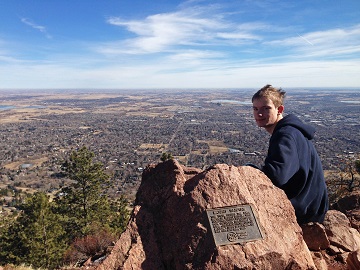 7) Betasso Preserve, Boulder County Open Space & Mountain Parks, Boulder, CO, February 12, 2017 - It was again just Lyle and Alan for our weekly hiking outing. We decided to avoid the ice in the mountains and headed back down to Boulder, this time to Betasso Preserve. We hiked the normal loop here, plus the Benjamin Loop extension that was added a few years ago. It was unseasonably warm and sunny for most of the hike but surprisingly cool down in the shady valleys. 7.1 miles with 700 feet of elevation gain.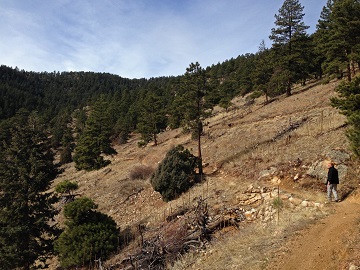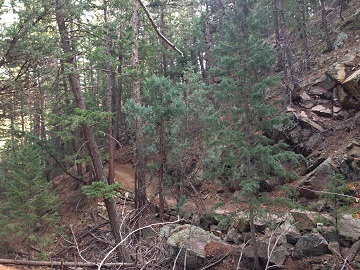 8) Shanahan Ridge, Boulder County Open Space & Mountain Parks, Boulder, CO, February 19, 2017 - Jonna and Alan drove back down to Boulder to meet Desiree, Gaelin and Philippe so they could show us a new trail. Hidden in the middle of a neighborhood in south Boulder is the Shanahan Ridge access trail which leads out through a beautiful pine forest into the web of trails around the Mesa trail. Unseasonably warm weather was nice but the lack of moisture this early in the spring could make for a nerve racking summmer. 3.7 miles with 800 feet of elevation gain.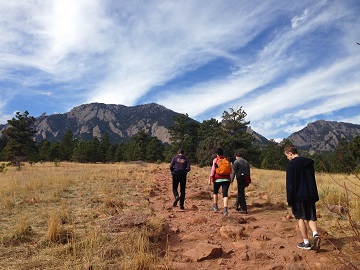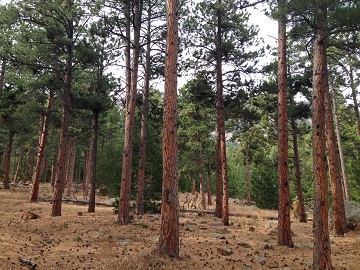 9) Flatirons Vista trail, Boulder County Open Space & Mountain Parks, Boulder, CO, February 26, 2017 - Alan was on-call again so we needed to keep this weekend's hike short. Jonna and Alan drove back down to Boulder to meet up with Desiree and Gaelin to try out a new trail for all of us. The Flatirons Vista trail located in some Boulder County Open Space just south of town. The sky was overcast but it was still a pleasantly warm day for a hike. Part of the trail system was closed but we were still able to do a circumnavigation around the park space. A 3.7 mile loop with a mellow 300 feet of elevation gain.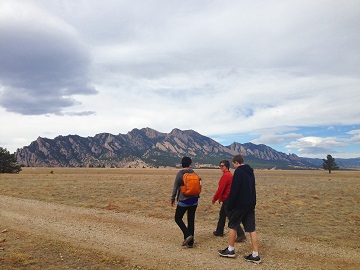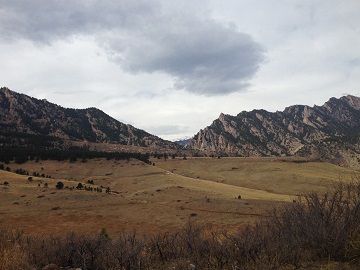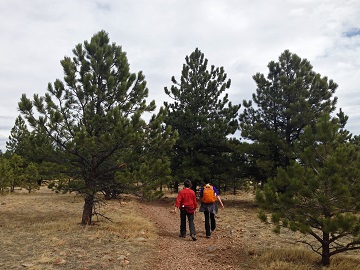 10) Pinewood Springs trail system, Pinewood Springs, CO, March 12, 2017 - It was just Todd and Alan this weekend for another hike in the network of trails in the Little Thompson River valley in Pinewood Springs. Snow clouds covered the mountains to the west and periodic gusts of wind sprinkled us with flakes but at one point the sun broke through the overcast sky to give us a treat with a snow rainbow. 2.2 miles with 600 feet of elevation gain.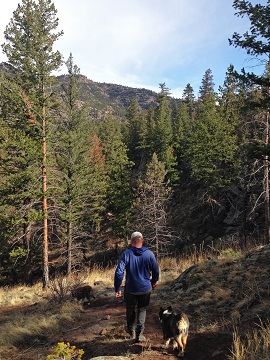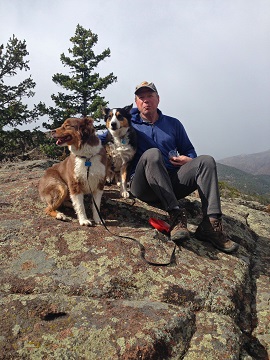 11) Green Mountain, Boulder Open Space & Mountain Parks, Boulder, CO, March 19, 2017 - Just Desiree and Alan braved the smoke from a nearby forest fire for this year's Hikin' O' The Green. Normally, a march climb of Green Mountain, the third of the annual spring training hikes, is an adventurous affair since the trail is usually covered in icy snow pack. But this spring has been dry and hot, as the Sunshine Canyon fire was illustrating, so the trail was bone dry. The view to the north was filled with a fire's smoke plume but the view to the west showed stunning snow-covered mountains of the Continential Divide. 5.9 miles with 2,500 feet of elevation gain.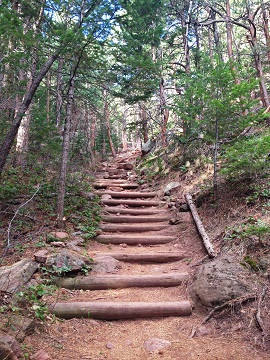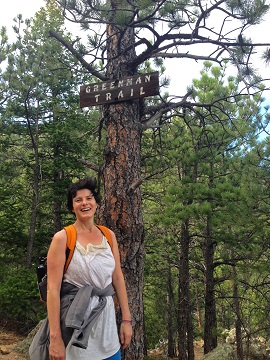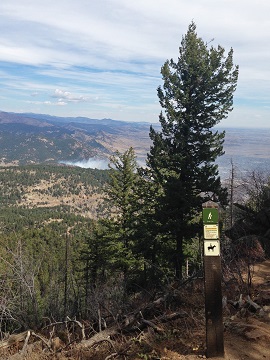 12) Mallory Cave, City Of Boulder Open Space & Mountain Parks, Boulder, CO, March 26, 2017 - Lyle and Alan went down to Boulder for this weekend's hike in order to dodge the rain storms that were covering the high country. We planned to climb Bear Peak but unexpectedly found that Mesa trail was closed which blocking our route. As a fallback plan we made the climb up to Mallory Cave where we enjoyed the incredible views out over Boulder. Best of all we made it back to NCAR just as the raindrops started to fall. 3.8 miles with 1,000 feet of elevation gain.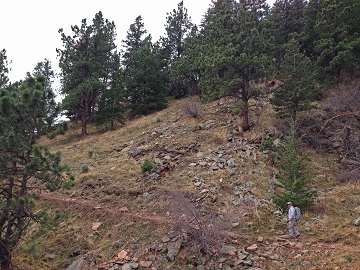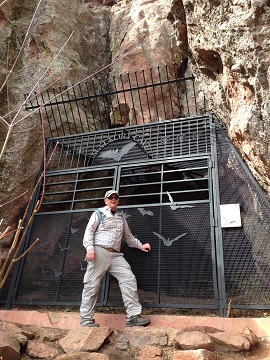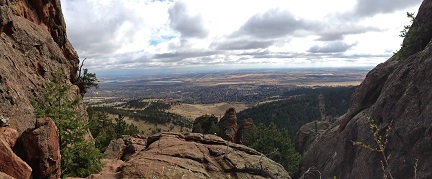 13) Shadow Canyon, City Of Boulder Open Space & Mountain Parks, Boulder, CO, April 2, 2017 - Jonna and Alan joined Desiree and Gaelin this weekend for another loop in the Boulder park system. It was perfect hiking weather - sunny but cool and with just a few puffy white clouds highlighted against a beautiful blue sky. We started at the South Mesa trailhead and made the familiar loop up Homestead and Shadow Canyon South trails to the bottom of Shadow Canyon. We looked up the steep steps at the bottom of the canyon but decided to leave the climb to the peaks above for another day. We came back via Shadow Canyon North, Mesa and Towhee trails. A great loop with many scenic views of the mountains along the Front Range. 5.7 miles with 1,000 feet of elevation gain.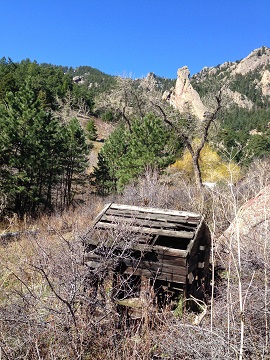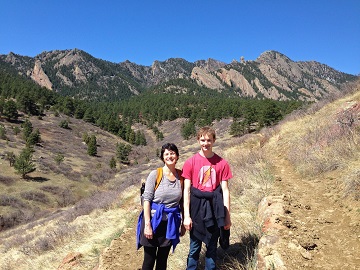 14) Long Canyon, City Of Boulder Open Space & Mountain Parks, Boulder, CO, April 8, 2017 - All of our hiking buddies were busy this weekend so it was just Jonna and Alan for the weekend's outing. We chose the Long Canyon trail on the south side of Flagstaff Mountain from Flagstaff Road down to Green Mountain Lodge. The trail was covered in snow slush left over from last week's storm but the warm Spring weather was melting it quickly which had Boulder creek swelling. A peaceful hike through one of the best parts of Boulder's Mountain Parks. 3.3 miles with 800 feet of elevation gain.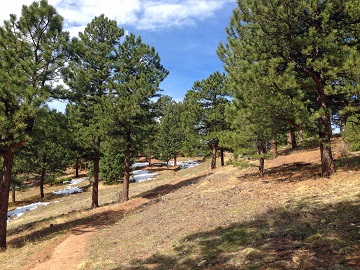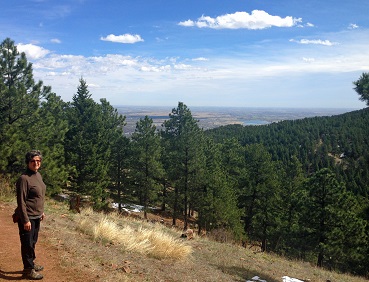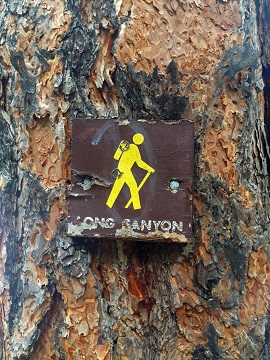 15) Bear Peak and South Boulder Peak, City Of Boulder Open Space & Mountain Parks, Boulder, CO, April 23, 2017 - Lyle and Alan decided to finish off our spring training hikes with a two-fer this weekend. We initially just planned to hike Bear Peak. Since found out a few weeks ago that our normal route was closed for trail maintenance so this weekend we started at the Green Mountain West Ridge trailhead. Up the side of Green mountain then turned south on the Green-Bear connector trail. From there we picked up the Bear Peak West Ridge trail and did the big climb through the old burn area up to the top. I've said it before but I'll repeat it again. The view from on top of Bear Peak is the best on the front range. We could see the entire panorama of snow covered peaks from Pikes Peak to Longs Peak. We then decided we might as well finish off our spring hikes so we then went down the saddle and then to the top of South Boulder Peak. Then it was the long hike reversing the route back up Bear down into the valley then back up Green and finally back to the car. Thankfully, it was a stunning day for hiking so we got our fill of vitamin D and some awesome views for our long day of hiking. 10 miles out and back with a little over 2300 feet of elevation gain.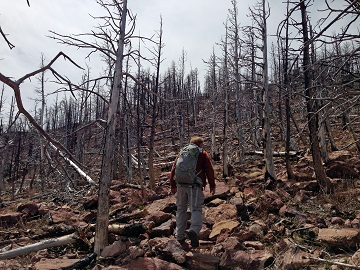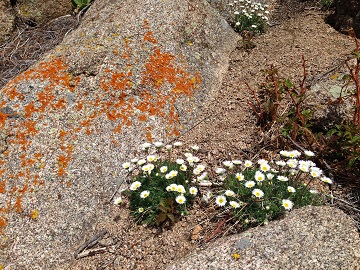 16) Sourdough Trail, Nederland, CO, April 30, 2017 - Alan and Jonna got out for a short hike this weekend to check out the slushy white stuff left after a late spring storm dumped nearly a foot on the mountains. Temperatures in the 60s combined with a cloudless sky was quickly melting the snow but we still managed to slip and slide our way up nearby Sourdough trail to a spot that overlooks the Indian Peaks Wilderness area. 1.5 miles up and back down with a mild 250 feet of elevation gain.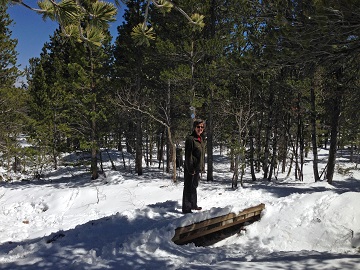 17) South St. Vrain trail #909, Brainard Lake Recreation Area, Ward, CO, May 7, 2017 - Lyle and Alan headed out with the idea of finally exploring a couple of seemingly unnamed lakes in Roosevelt National forest just off South St Vrain trail. However, due to an early afternoon commitment for Alan we had to turn back before getting up to the lakes. Still, we got in a nice hike before the afternoon rain storms rolled in. As a bonus we got to enjoy some spirited singing from the frogs in a marshy area along the trail. 4.2 miles out and back with a moderate climb of 700 feet of elevation gain.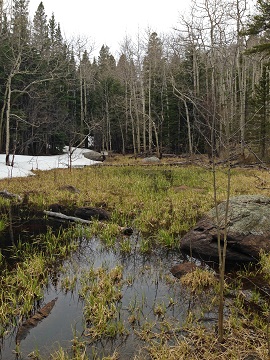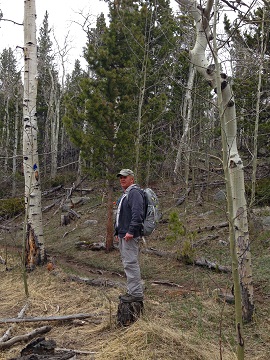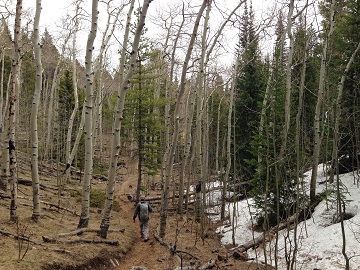 18) Forest Lakes, East Portal trailhead, Toland, CO, May 14, 2017 - It was just Lyle and Alan again this weekend and just like last weekend we were again turned back before reaching our goal. However, this time it was snow rather than time that curtailed our hike. We started at East Portal with the idea of hiking up to the Forest Lakes but it turned out that there was still plenty of snow up in the high country. Within a 1/4 mile of the trailhead we were walking on packed snow and as we gained altitude the snow got deeper and softer. We eventually threw in the towel and sloshed our way back to the car. Still, it was a beautiful day to be up in the mountains - not a cloud in the sky, the creek raging with snow melt and the mountains looking magnificent all around. 4 miles out and back with 650 feet of elevation gain.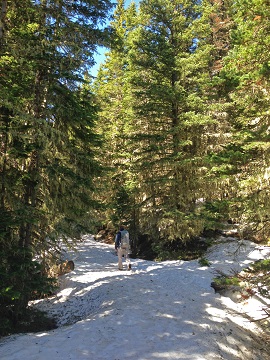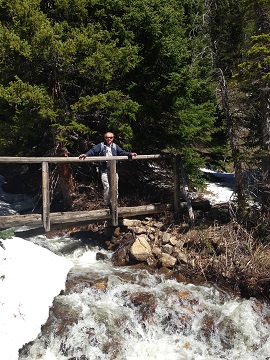 19) North Table Mountain Park, Jefferson County Open Space, Golden, CO, May 21, 2017 - A late week, late Spring snowstorm dumped 3 feet of snow on the mountains so Lyle and Alan headed down to Golden to escape the white stuff. The trails on top of North Table Mountain where wet and muddy but it was better than wading through knee deep snow slush. The weather was excellent - cool but sunny and a bright blue sky filled with fluffy white clouds. We hiked a big loop that included the Tilting Mesa, Mesa Top and North Table Loop trails. A 7.8 mile loop with two different climbs up the side of the mesa totaling 1,300 feet of elevation gain.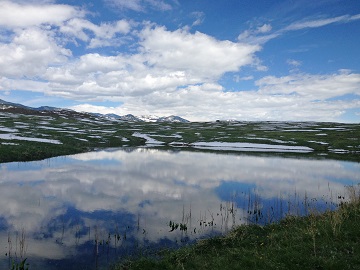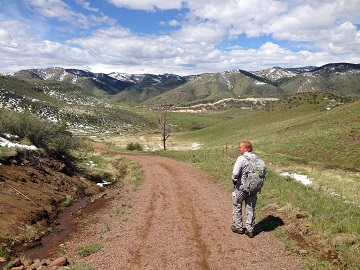 20) Ralston Roost, Golden Gate Canyon State Park, Golden, CO, May 21, 2017 - It was a special hike this weekend since we were celebrating Alan retiring from working full time. A group of friends gathered for coffee and tea at Happy Trails coffee shop in Nederland in the morning. Then most of that group headed to Golden Gate Canyon State Park where we met up with more friends for our hike. Then afterwards we gathered at Salto in Nederland for tacos. A fun day with a revolving cast of friends! The hike itself was also a dynamic occasion. Kristin, Steve, Stephen, Lyle, Jonna and Alan started from the park's visitor center parking lot under bright sunshine. Shortly after starting up Black Bear trail clouds rolled in and it started to hail. Then the hail turned to rain which then turned back to hail and, near the top at Ralston Roost is changed again into snow. For the trip down Horseshoe trail the precipitation abated and by the time we got back to the parking lot we were again in glorious sunshine. A 4.8 mile loop with 1,300 feet of elevation gain.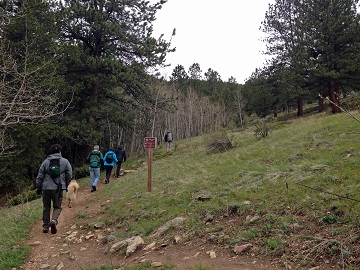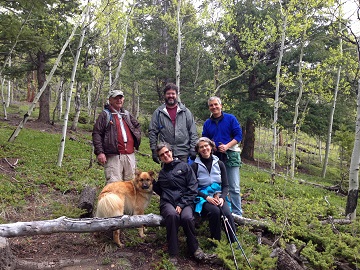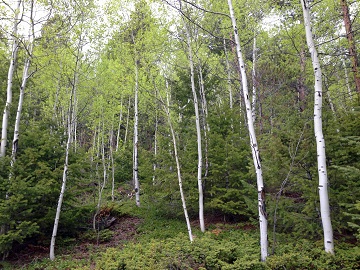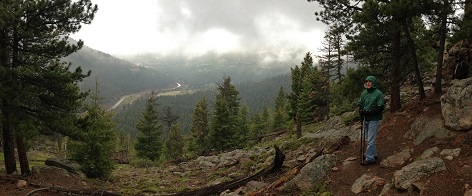 21) Lichen Loop, Heil Valley Ranch, Boulder County Parks and Open Space, Boulder, CO, June 2, 2017 - Aunt Gail was visiting from Florida so we returned to a trail she enjoyed hiking when she lived in Boulder. We drove out to the Heil Valley Ranch trail system where we did a short Friday morning walk. Despite being close to Boulder the Lichen Loop trail is a surprisingly scenic hike with great views along the front range, open meadows filled with wildflowers, car-sized glacial boulders, thick stands of ponderosa pine and even the ruins of an old lime kiln. As an extra treat we spotted a flock of turkey hens playing hide-and-seek with a very vocal (and somewhat frantic) gobbler. A 1.3 mile loop with a mild 300 feet of elevation gain.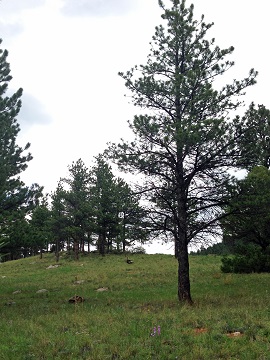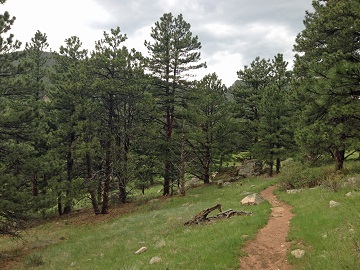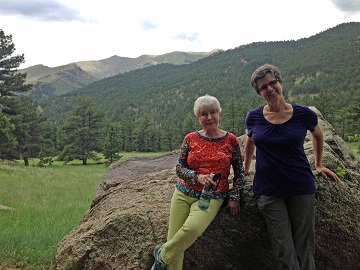 22) Hanalei Plantation hike, Princeville, Kauai, HI, June 25, 2017 - We took a vacation to recover from our vacation (to Thailand) by joining Jonna's brother Jamie, his wife Kelly and their family for a 30th wedding anniversary holiday in Hawaii. Jonna and Alan went out for an exploratory walk and ended up following some side roads and beach access trails long enough that we called it a weekend hike! It was nice to walk through undeveloped areas of land with mangroves, wild grasses and native trees to get a feel for what was here before all man-made paradise of the resorts was built. We also walked through the "ruins" of the old Club Med resort. It was also nice to have a hike that included a beautiful beach (Puu Poa) where we could cool off hot feet! 2.7 miles with 180 feet of elevation gain.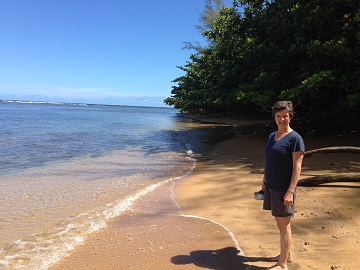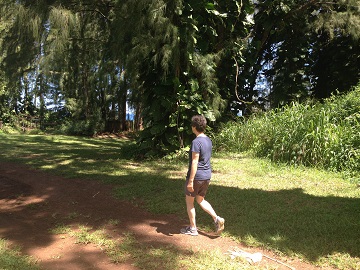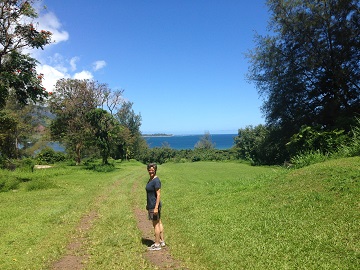 23) Hanakapiai Beach, Kalalau Trail, Kauai, HI, June 28, 2017 - Spending a week on Hawaii's "Garden Isle" means it would practically be a crime not to get out and see some of the incredible scenery. Jamie, Rosie, Jonna and Alan got up early (to snag one of the rare parking spaced at Ke'e Beach) and hiked a little of the famous Napali coast. We only had time/energy to hike to the first beach but it was still a wild and beautiful place. Soaring jungle hills, shining aqua water crashing into rocky cliffs down below and relatively few hikers on the trail early in the morning. A bonus for Alan was remembering hiking on this trail with his Dad over 30 years ago! We only sampled a small part of the 22 miles (round trip) total that the trail offers but we throughly enjoyed the part we hiked. 3.9 miles with 1,600 feet of elevation gain.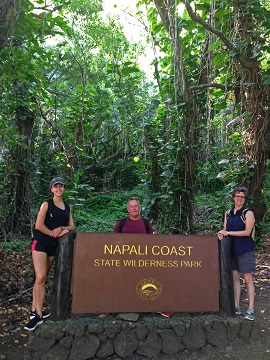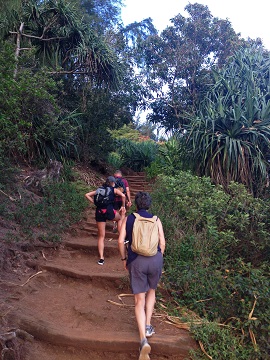 24) Forest Lakes, East Portal trailhead, Toland, CO, July 9, 2017 - Our friends Desiree and Gaelin joined us for our first hike back in Colorado after our recent Thailand adventure. With the wildflowers in full bloom up in the high country we headed to the East Portal trailhead and hiked up to Forest Lakes. The Indian Paintbrush, Golden Asters, Bluebells and Columbines were all bursting with blossums alongside the trail. We also enjoyed the view of the mountains up at the lakes before heading down to beat the afternoon rain shower...we made it back to the car with just enough rain drops on our shirts to cool us down after the hike. 6.8 miles with 1,500 feet of elevation gain.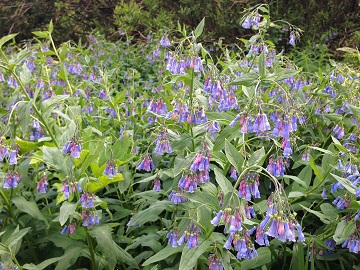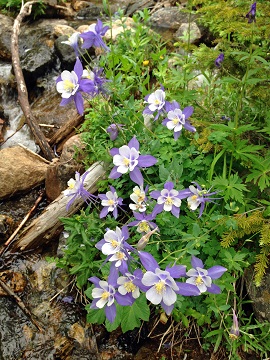 25) Lumpy Ridge loop trail, Rocky Mountain National Park, Estes Park, CO, July 13, 2017 - Alan finally joined the "Mid-Week Retiree Hiking Club" by accompanying Todd and Lyle for a hike on a Thursday. Todd picked the Lumpy Ridge loop so we met at the trailhead and started out going clockwise around the series of trails. First we hiked through the historic MacGregor Ranch and then up Black Canyon to the pass at the west end of Lumpy Ridge. From there we dropped down to Cow Creek where walked through meadows covered in wildflowers while listening to Cow Creek cascade alongside the trail. Then it was the climb back up the east end of Lumpy Ridge to Gem Lake and, finally, the drop back down to the trailhead. A great day of hiking with some splendid scenic vistas, beautiful wildflowers and marvelous companionship. I think I'm starting to get the hang of this retirement thing... A 11.8 mile with 2,400 feet of elevation gain.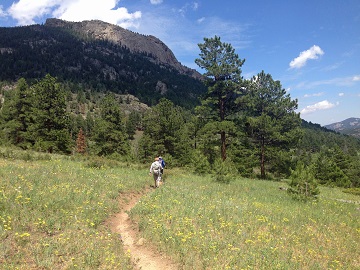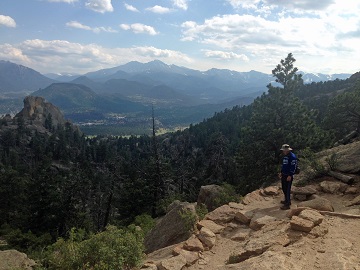 26) Ellsworth Creek trail system, Rollinsville, CO, July 16, 2017 - Jonna and Alan were gonna skip hiking this weekend but at the last minute decided not to waste a chance to glimpse the high country during the peak of wildflower season. We parked at the "secret" Ellsworth Creek trailhead and hiked to the meadows above the old Ellis Lode Mine. As we'd hoped the meadows were full of flowers of all colors: purple, yellow, red, blue, white and pink. A pleasant hike with a colorful palette of wild flowers as the pay-off. 4.2 miles up and back with 800 feet of elevation gain.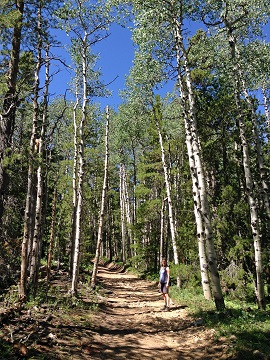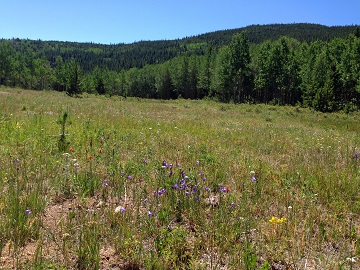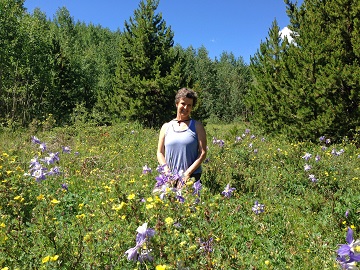 27) Finch Lake, Wild Basin trailhead, Rocky Mountain National Park, Allenspark, CO, July 20, 2017 - Todd, Lyle and Alan assembled for the second meeting of the Mid-week Retiree Hiking Club and once again aimed high - this time heading to Wild Basin in Rocky Mountain National Park to try for one of the lakes there. Apparently the crowds failed to notice the "mid-week" part, as the trailhead parking was packed despite it being a Thursday. We ended up parked about 1 1/2 miles from the trailhead which added considerably to the length of our hike. We aspired to make Pear Lake but were running low on time when we finally got to Finch Lake so we turned around there. The theme of the hike was definitely water - we hiked alongside all the cascading creeks - Lower and Upper Chapman Falls, Calypso Cascades as well as dozens of streams, run-offs and trickles. Finch Lake is as scenic a water feature as any in Wild Basin. Finally, a late afternoon thunderstorm rolled in which added yet more water to the day. A long day but plenty of Rocky Mountain National Park scenery to make it worthwhile. 14 miles with 2,000 feet of elevation.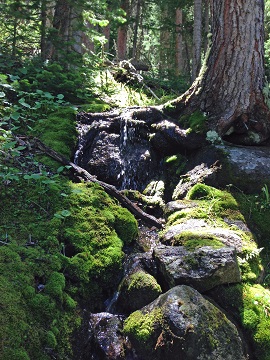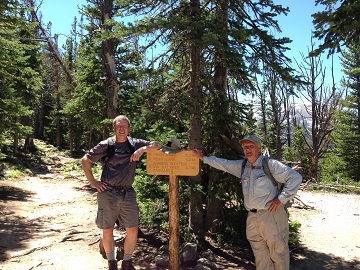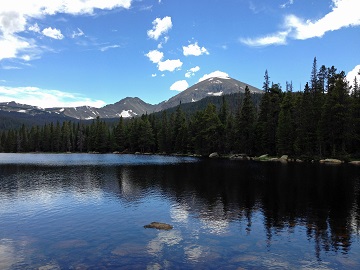 28) Anchor Mine, Caribou townsite, Nederland, CO, July 23, 2017 - Our friend Desiree made the drive up from Boulder to hike with us in the mountains this weekend. Since recent rain has kept the wildflowers poppin' we again headed up into the high country to enjoy nature's colorful display. We chose the hike from the old ghost town of Caribou to the site of the Anchor Mine. The Indian Paintbrush flowers were impossibly bright red, Black-eyed Susans blanketed the open fields and waist high Subalpine Larkspur bushs were bursting with purple buds. Another hike highlighted by a beautiful wildflowers. 3 miles out and back with a mellow 400 feet of elevation gain.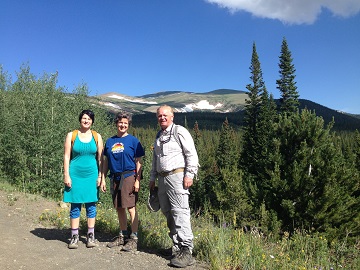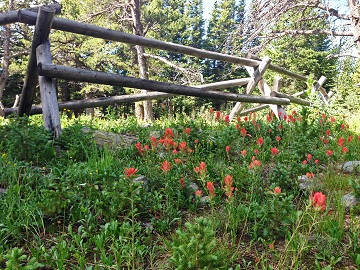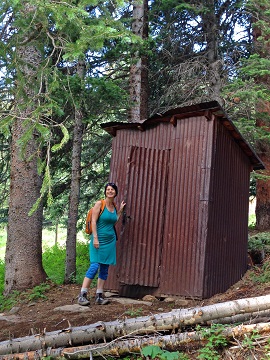 29) Crystal Mill, Marble, CO, July 26, 2017 - Jonna and Alan decided to celebrate Alan's 50th birthday with an overnight trip to explore a part of central Colorado we hadn't visited before. Specifically, the valley of the Crystal River from Marble up to the ghost town of Crystal. After spending the night at a B&B in nearby Carbondale we drove down to Marble and started heading east on forest service road #314. Like the mystical tales of Shangri-la and Brigadoon the road seemed to switch to a magical place after we crossed a bridge about half mile outside of town. Suddenly a serene lake appeared out of the post-rain mist. We parked by it (Lizard Lake) and started hiking down the rocky, muddy road. We soon dropped down into the valley alongside a rushing river which was flowing through a forest of giant pines dotted with thick aspen groves. Waterfalls fell from the surrounding peaks and wildflowers lined the road. We didn't find an idyllic, eternal city at the end but we did see the Crystal Mill (est. 1893) perched on a cliff beside a waterfall which is a pretty incredible sight (at a pretty incredible site). We didn't appear to become immortal nor did we find a town of pure peaceful beings but it was a arrestingly beautiful way to celebrate a 50th birthday. 7.4 miles with 600 feet of elevation gain.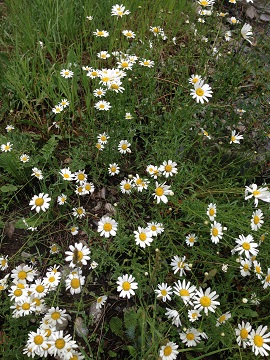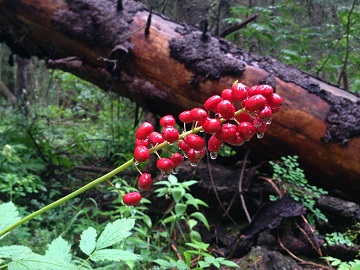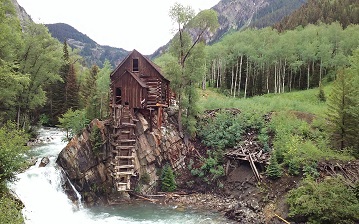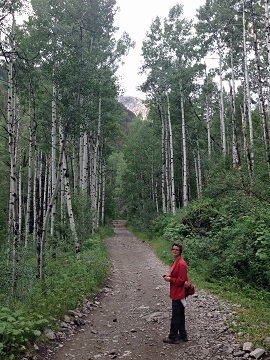 30) West Magnolia trail system, Nederland, CO, July 30, 2017 - Alan has been helping a local group (NATO - Nederland Area Trails Organization) build a new trail in the West Magnolia trail system so our hiking group headed there to check it out. Fortunately, a week of rain means that the wildflowers are still going strong up in the mountains and the meadows along the School Bus trail (aka Magic Bus trail) were covered with purple asters and dotted with tall violet thistle flowers, yellow aspen sunflowers, tiny little dwarf goldenrod and a few delicate white primrose. Another lovely hike with a dazzling array of wildflowers. 2.8 miles out and back with 500 feet of elevation gain.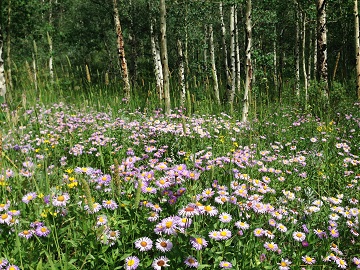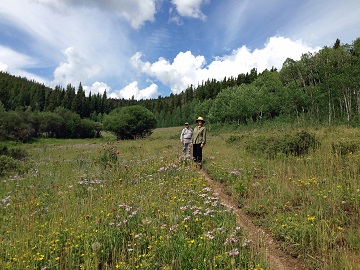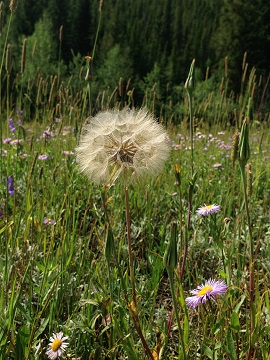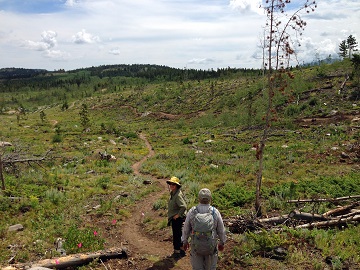 31) East Magnolia trail system, Nederland, CO, August 3, 2017 - Despite it being a rainy, foggy day Todd called to see if Alan was up for an afternoon hike. Affirmative! Todd wanted to scout out the East Magnolia trail system for a future mountain bike ride so we headed there to hike. The weather switched between rain and fog multiple times but we donned our rain gear and didn't let that slow us down. Soggy wildflowers still filled the meadows, rain drop drips clung to the pine needles and whispy rain clouds clung to the mountain tops. 5 miles with 550 feet of elevation gain.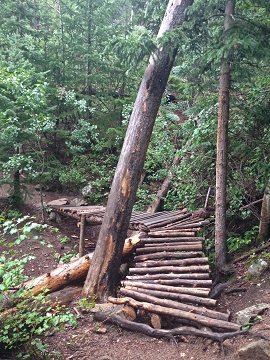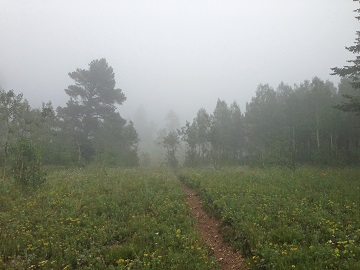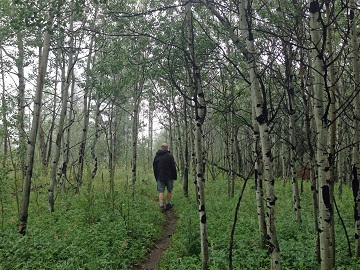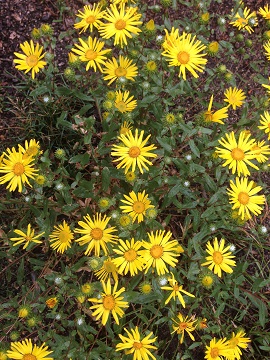 32) Chittenden Mountain trail, Eldora, CO, August 6, 2017 - For our hike today we explored Chittenden Mountain where we enjoyed all the mushrooms, wildflowers, pine trees and aspens. A beautiful area which we will return to again soon to explore further. 3.4 miles with 1,250 feet of elevation gain.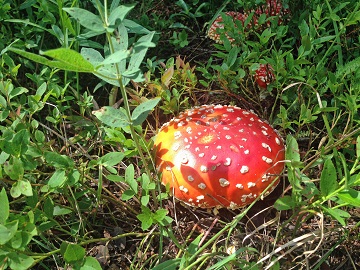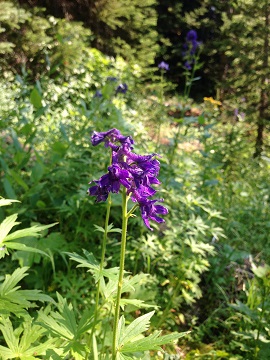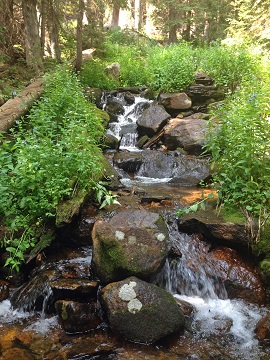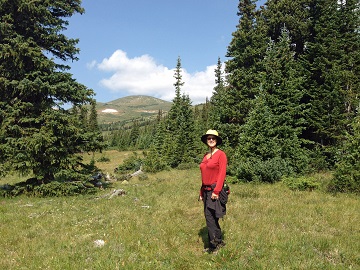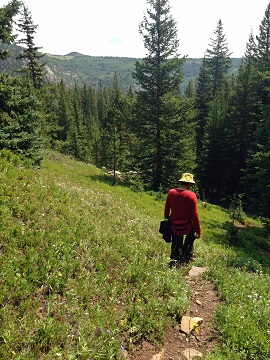 If you enjoyed these you may also enjoy checking out some photos from our 2016 hikes.

Return to Alan's Hiking Page

Return to Alan's Home Page
---
Alan Fleming