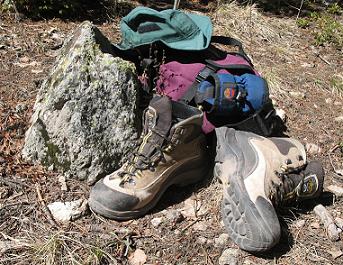 ---
Alan and Jonna's 2008 hikes
After a slow 2007, we bounced back with lots of hikes in 2008. Nothing as ambitious as 2005 and 2006 but a lot of enjoyable hikes with friends.

Here are some quick reviews and photos of some of our favorite hikes from the spring, summer, fall and winter of 2008:

1) Sourdough trail, CO - January 6, 2008 - After a couple of hikes where the weather was too cold for the camera to work, Jonna and Alan finally got out for some snow shoeing with a working camera. We went in for more than a mile before turning back, so figure maybe 3 miles total.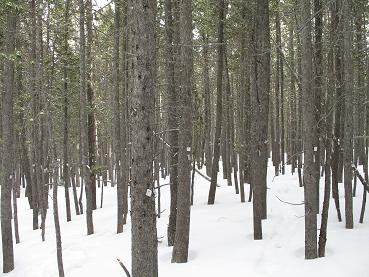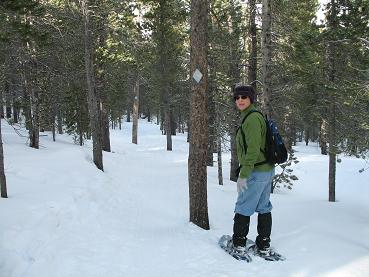 2) Sourdough trail, CO - January 11, 2008 - We invited our friends Erin and Spice to join us and Holly for a snow shoe. This was Spices first snow shoe trip and turned out to be a beautiful, if windy, day. We hiked north a couple of miles on the Sourdough trail, had a snack break on a snow covered hillside and then hiked back out.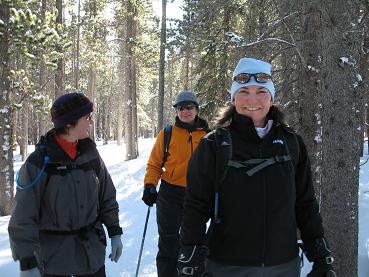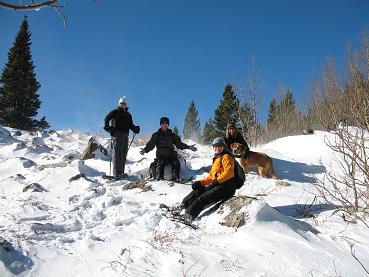 3) Ceran-St. Vrain trail, CO - January 27, 2008 - Our regular hiking crew (Alan, Jonna, Lyle, Holly and Buster-boo the hiking pupster) got together for a snowy hike along the Ceran-St Vrain trail. We hiked in about two miles to where the trail turns uphill away from the creek before turning back.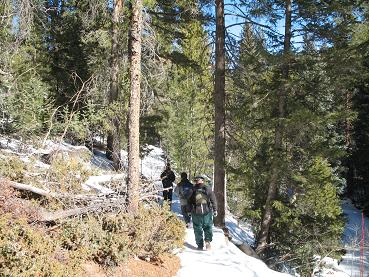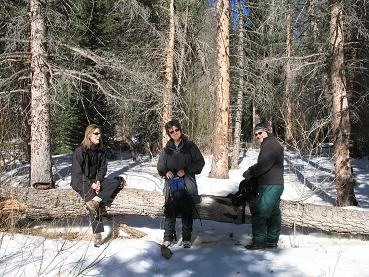 4) West Magnolia trail, CO - February 2, 2008 - We did a short, quick hike with Holly and Buster so Jonna could try out her new-to-her Nikon film camera for a photography class. Due to the cold weather, it ended up being a 2 mile loop out at the end of the West Magnolia trail system. We started out on snow shoes but found the snow wasn't deep enough so eventually took them off and just hiked.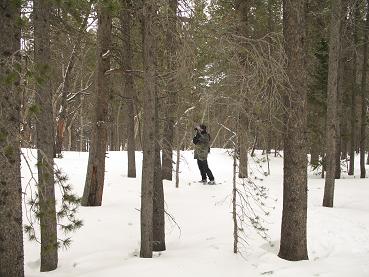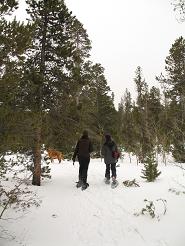 5) Ceran-St. Vrain trail, CO - February 8, 2008 - We got our friend Desiree to come join the crew for a return to the Ceran-St Vrain trail. This time it was a warm, gorgeous day for a hike. We hiked up onto the ridge for a picnic, making for a great 5 mile hike.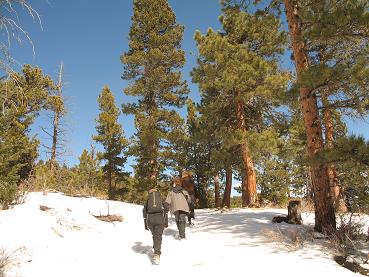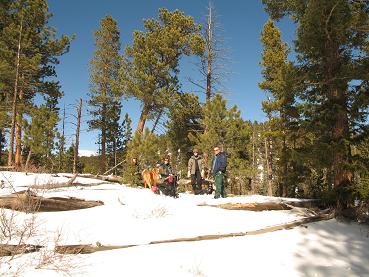 6) Brainard Lake, CO - February 16, 2008 - Lyle and Alan decided to step things up a with a 6 miles snow shoe up at Brainard Lake, doing the Sourdough to South St. Vrain to Waldrop North loop. It was a chilly, windy day but once into the trees it was a nice hike.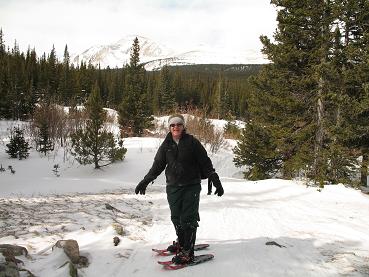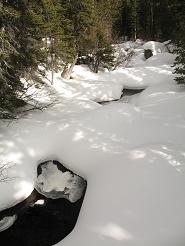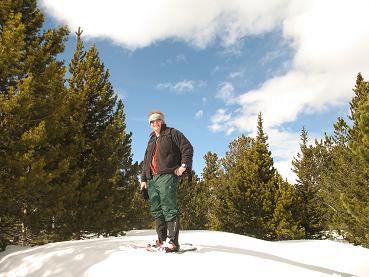 7) Winter Park, CO - February 21, 2008 - On the annual ski train trip for Time Warner Cable ATG-West, Alan and some co-workers decided to snow shoe rather than ski. It was a mixed group, some first timers and some experienced hikers. We hiked a mile and a half up the Jim Creek trail and then had a great picnic on the snow before returning back to Winter Park and the ski train.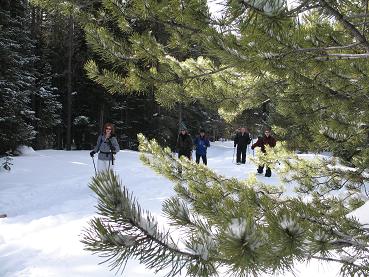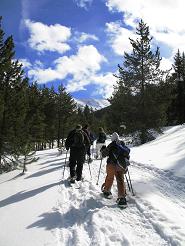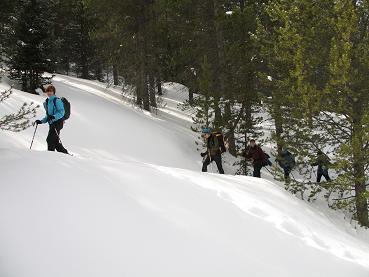 8) West Magnolia trail, CO - February 23, 2008 - Despite overcast skies, Holly and Buster joined us for a short snow shoe hike to celebrate Jonna's recent birthday. We decided to return to explore a little more of the West Magnolia trail system and were happy to find more snow than on our last visit. It was once again bitterly cold so it was still a short hike, probably no more than two and a half miles and we came out encased in ice!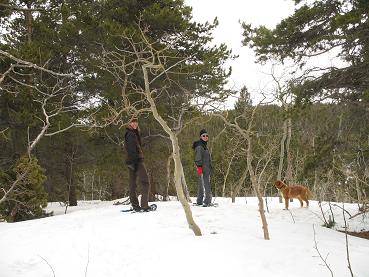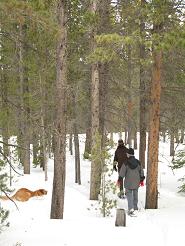 9) SMC, CO - March 01, 2008 - Jonna and I decided to join Holly and her students for a trip to the Shambhala Mountain Center just outside Red Feather Lakes in northern Colorado. While there, we did a hike up to the top of the ridge above the Great Stupa. It was windy up on top of the 8200 ft hill but we still ended up with a total of around 3 miles of hiking by the end of the trip.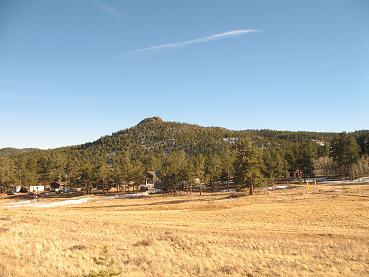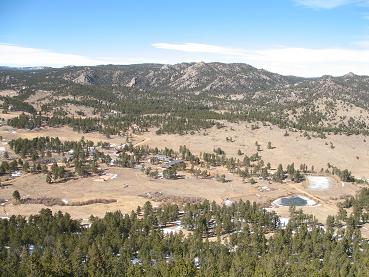 10) Caribou, CO - March 15, 2008 - Our normal hiking crew got back together for a first hike of the year up at Caribou. Our usual loop there is about 3 1/2 miles and this was a nice spring day for a hike...however, the most memorable part will undoubtedly be Buster and his poo-cicle treat. Eewwwww...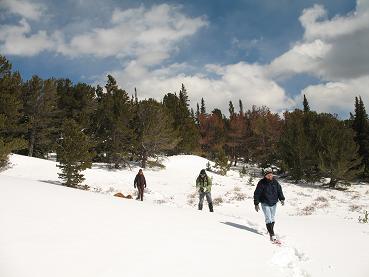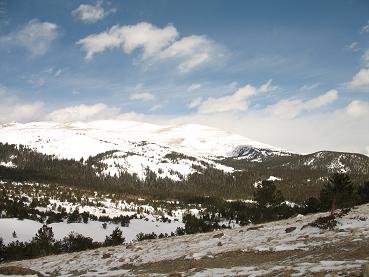 11) Green Mountain, CO - March 28, 2008 - Lyle and Alan got together again to step it up again, this time with a hike up to the top of Green Mountain outside Boulder. 2,500 ft up and a six mile hike but this time it was made really tricky due to all the early spring ice covering the trail. We slipped, slid and fell most of the way down from the summit to the Gregory Canyon trail!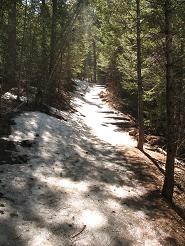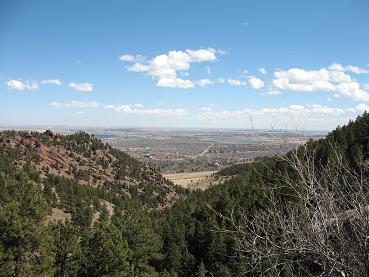 12) Brainard Lake, CO - April 05, 2008 - In the spring, Jonna's brother Jamie came to visit, so Jonna, Alan and Holly used that weekend's hike to bring Jamie snow shoeing up at Brainard Lake. It turned out to be a great day to be out in the woods. Sunny and with very little wind. We did our usual 6 mile loop but ditched the snow shoes for the last couple of miles since the warm sun made the snow so sticky the shoes picked up a few extra pounds of snow.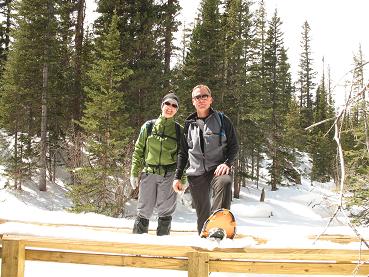 13) Heart Lake, CO - April 11, 2008 - The very next weekend brought another visitor. Lyle's sister-in-law, Lynette, came out to visit so we took her snow shoeing as well. Lyle, Alan, Jonna, Holly and Lynette headed up to the Moffat Tunnel to do part of the Heart Lake trail. A recent snow storm made for especially deep snow so it was perfect snowshoeing conditions. We made it about two miles up before losing the trail and ending up down in the creek bed.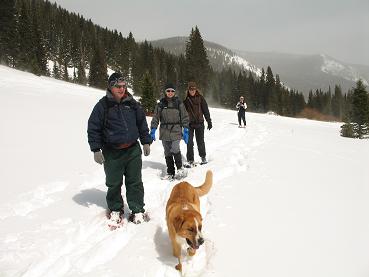 14) Ceran-St. Vrain trail, CO - April 18, 2008 - To continue the trend of bringing new folks out on our hikes, Lyle and Alan invited their co-worker Matthew and his wife Soyung to join our usual crew for a hike. To take it easy on our visitors, we returned to the easy and scenic Ceran St-Vrain trail. The snow was quickly melting out the snow so we took advantage of the clear trail and went just a little further than our last visit on this trail, making for about 5 1/2 miles total.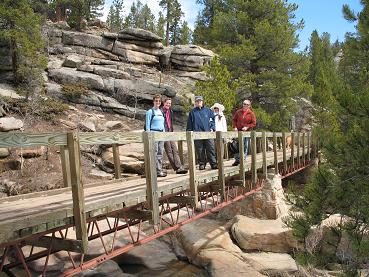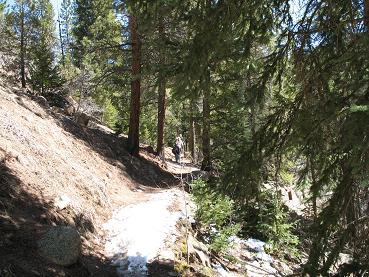 15) Walker Ranch, CO - April 25, 2008 - On a wet, snowy day our regular crew made our first visit of the year to the scenic Walker Ranch loop. The snow died down about a quarter of the way around and we finished up the hike in warm sunshine.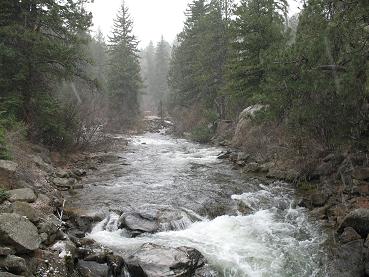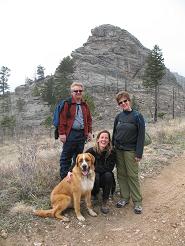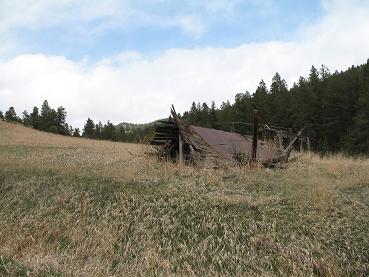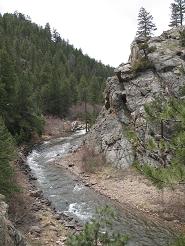 16) Royal Arch, CO - May 03, 2008 - With the high country still snowed in we started doing some of our traditional early spring hikes along the front range. One of Holly's friends, Amod, was visiting, so he joined our group for a great hike out to Royal Arch in Boulder's Chatauqua Park. Round trip, it is about four miles with around 1,300 ft of elevation.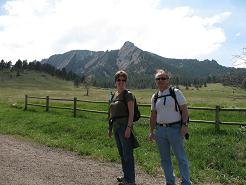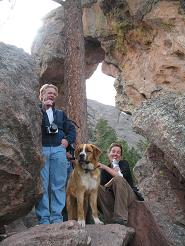 17) Golden Gate Canyon State Park, CO - May 30, 2008 - On one of the most beautiful hiking days so far this year, Alan, Jonna, Lyle and Holly headed up to Golden Gate Canyon State Park to do one of the loops there. We opted to start at Ole' Barn Knoll, go up Elk trail to Frazer Meadow and then come back down Coyote trail to Bootleg Bottom where we picked up Elk trail again back to the starting point. The total loop is about 4 miles with a little over 1,000 ft of elevation gain on the climb up to Frazer Meadow.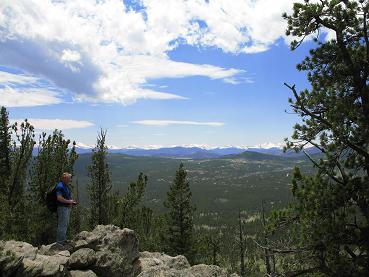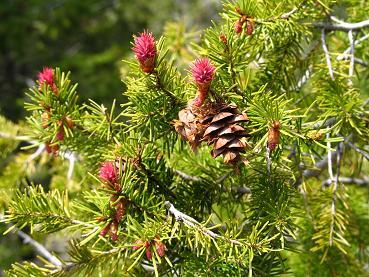 18) Brainard Lake, CO - June 06, 2008 - Alan, Jonna and Holly made another trip up to Brainard Lake for a late spring hike. It turned out to be a muddy, slushy hike that became longer than our usual loop when we bailed out of the really mushy snow on the Waldrop trail and hiked all the way out to Brainard Lake instead so we could walk back along the paved road. This turned out to be a great detour since we ended up seeing a moose near Red Rocks Lake on our way back to the car.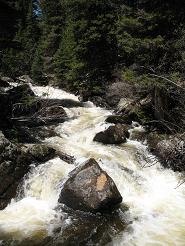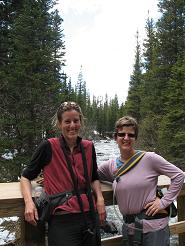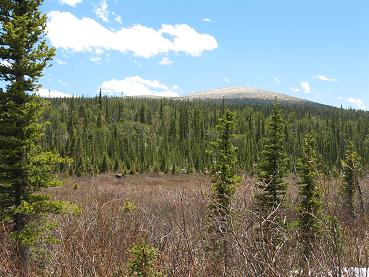 19) Mt. Galbraith, CO - June 14, 2008 - With Lyle and Holly both unavailable, Alan and Jonna invited our friend Desiree our for a hike. We decided to try something new by going down to Golden to try out the Mt Galbraith trail in the JeffCo open space park system. This turned out to be an easy and pleasant four mile, 1,000 ft elevation gain loop with some nice views from the top. After months of hikes surrounded by snow or mud, it was also nice to see so many flowers in bloom!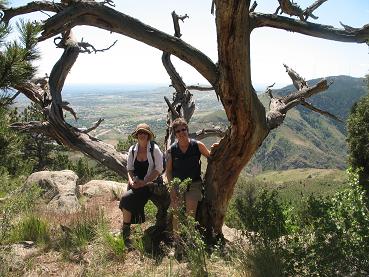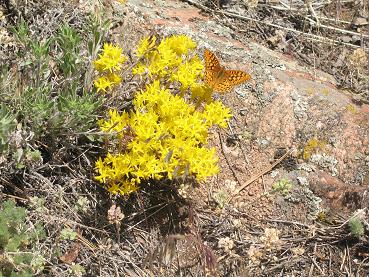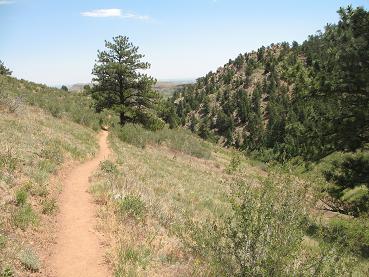 20) Muir Woods National Park, CA - July 25, 2008 - Jonna and Alan spent a week in mid-July exploring Kyoto, Japan and then stopped in San Franciso on the way back to visit with Jonna's brother Jamie and his family. For Alan's birthday Jonna, Jamie, Larkin and Rosie took Alan for a quick hike at Muir Woods National Park. We did about 2 1/2 miles of hiking, including a climb up out of the valley on the Ocean View Trail for a view of the Pacific Ocean from Panoramic view and then back down Fern Creek trail to the valley. The majesty of the redwoods is just incredible...a fantastic birthday present!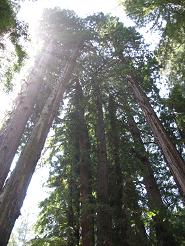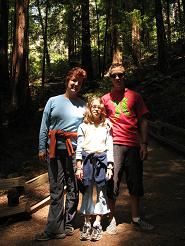 21) Yosemite National Park, CA - July 26, 2008 - The day after the Muir Woods hike, Alan and Jonna took nephew Larkin up to Yosemite National Park for the weekend. We spent the first day walking up to the base of Yosemite Falls and then across Yosemite Valley to our campground. The next morning, we hiked up to Mirror Lake, then down to the Ahwahnee Lodge to meet the rest of the family (Jamie, Kelly, Brianna and Rosie) who'd driven up for the night. All of us did an afternoon hike back up to Mirror Lake before Alan drove back to Oakland to catch a flight back to Denver. All total, about 5 miles of hiking over a couple of days in the stunning Yosemite Valley.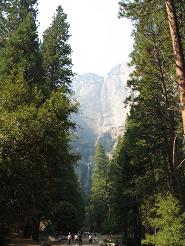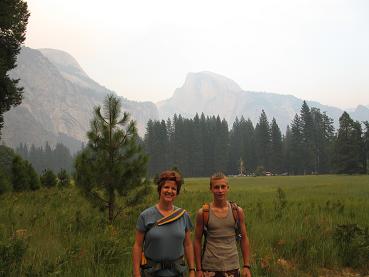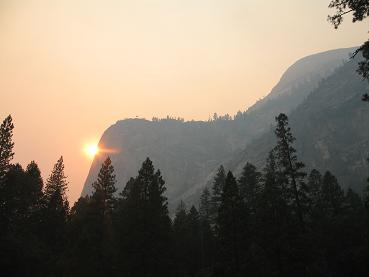 22) Heart Lake, CO - August 23, 2008 - With summer quickly running out, our regular crew decided we better get in some long hikes while we could so we returned to one of our old favorites, the Heart Lake trail at the Moffat Tunnel. This time we did the full trail all the way up to Heart Lake where we enjoyed a nice picnic on the side of the lake, before taking the long way back down. 10 miles with over 2,000 ft of elevation, plus some of the most beautiful scenery imaginable, made it a great "big hike".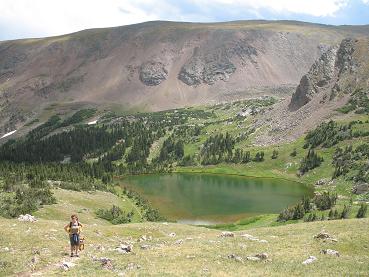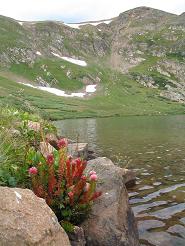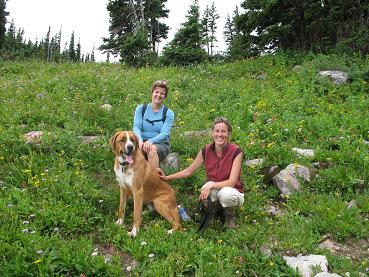 23) Arapahoe Glacier, CO - August 31, 2008 - Alan, Jonna and Holly were once again joined on a hike, this time by our friend Krista and her boyfriend Jeff. We decided to again get in some altitude by hiking up the Arapahoe Glacier trail from the Rainbow Lakes Trailhead. We hiked up about two miles to the overlook above the lakes that make up part of the Boulder water reservoir system. With rain moving in, we cut the hike short and headed back down, making for a short, four mile hike.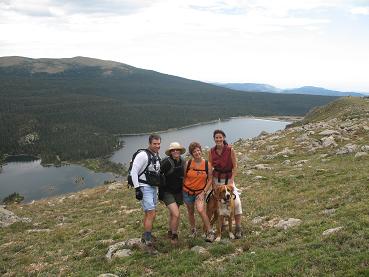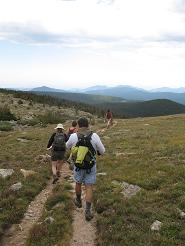 24) Forest Lakes, CO - September 07, 2008 - In another effort to get up into the high country before the snow hit, our usual group met back up at Moffat Tunnel but this time to head up the Forest Lakes trail. This seven and a half mile round-trip hike, up 1,600 ft, was one of the best of the summer with beautiful weather and a nice picnic out on the rocks of the lake.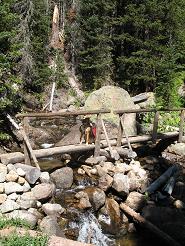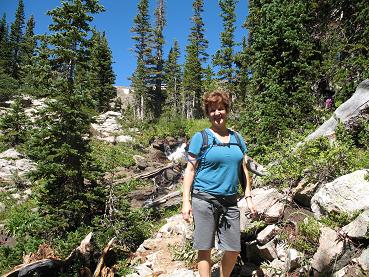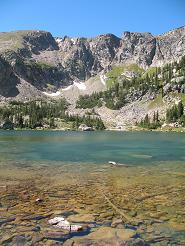 25) Isabelle Glacier, CO - September 14, 2008 - The usual suspects got together for a short hike into the Brainard Lakes Recreation Area. We did the quick, 1 1/2 mile hike around Long Lake. At that point, Holly and Jonna had to head back home. Alan and Lyle decided they'd eaten their Wheaties that morning so headed on up the trail to Isabelle Lake and then on past that on the Isabelle Glacier trail. Up at the top they joined another hiker in what eventually turned up to be a failed attempt to find the wreckage from a WWII era plane crash. Round trip, the hike probably ended up being just over nine miles with just under 2,000 ft of elevation gain.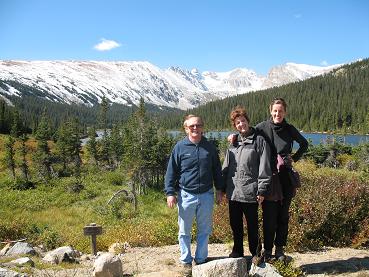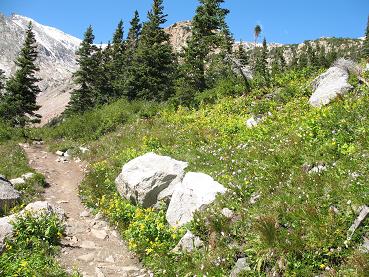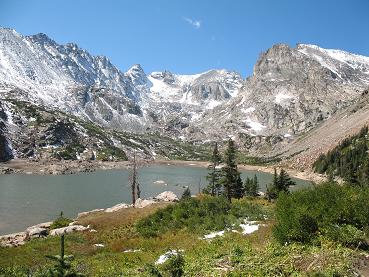 26) Rollins Pass, CO - September 21, 2008 - On a rainy Sunday, Alan and Lyle got together for a exploration of the trails up at the top of the Rollins Pass road for a possible future show shoe trip over the Continental Divide. First we did the short trail down from the road to Forest Lakes. Then we drove out to the Needle's Eye tunnel and hiked west towards Corona Pass. Unfortunately, a storm turned us back before we could get over the pass and down into Corona Bowl. The total amount of hiking was only around three miles in length but it did allow us to get important GPS way points in case we ever do the snow shoe trip over the Continental Divide from Winter Park to the Moffat Tunnel.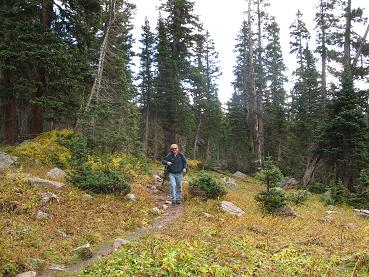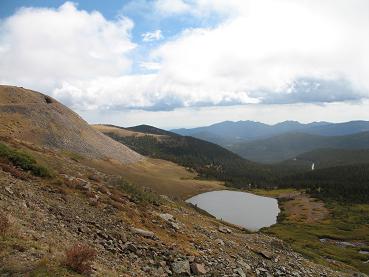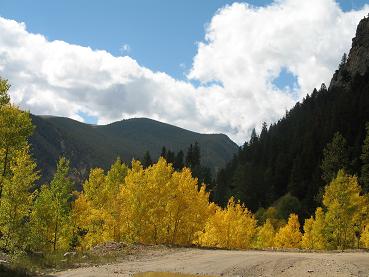 27) Diamond Lake, CO - September 28, 2008 - At the height of the aspen tree's fall color change, Alan and Jonna drove into the Fourth of July trailhead and hiked up to Diamond Lake. It was a crisp, clear day for a hike and the aspen leaves were some of the colorful we've seen in years. The hike was a little over five miles in length with about a thousand feet of elevation. Perhaps the most memorable thing, however, was the number of hikers we encountered that weekend. It was clearly the peak weekend for folks to hit the trails and enjoy the fall weather.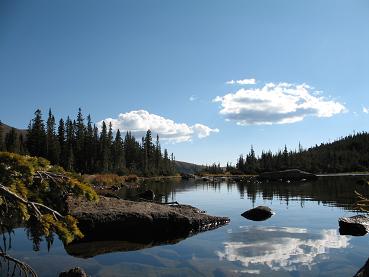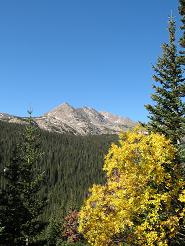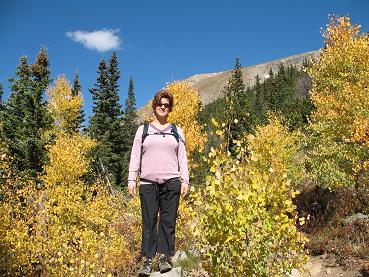 28) Blue Lake, CO - October 18, 2008 - Our regular hiking team headed back for a second hike in the Brainard Lake Recreation Area. This time taking off from the Mitchell Lake trailhead for five mile round-trip hike up to Blue Lake. It was so windy and cold up at the lake we didn't stick around long but it was calm in the valley so overall it was a enjoyable hike.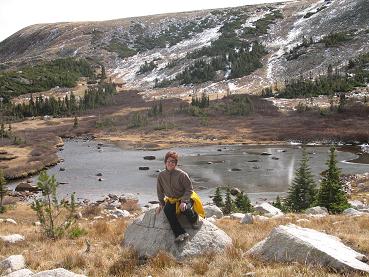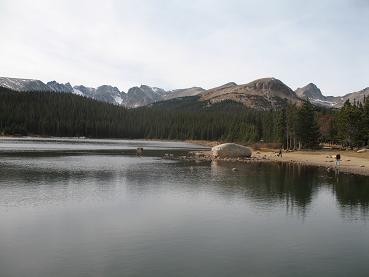 29) Lost Lake, CO - November 2, 2008 - Alan, Jonna and Lyle managed to sneak in a quick hike on a rare warm late fall day. We headed up to the Hessie trailhead and then did the three mile round-trip hike into Lost Lake.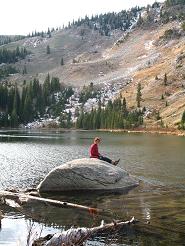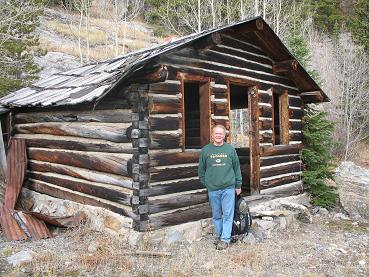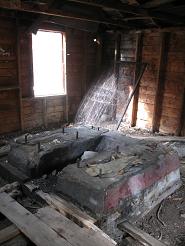 30) Table Mountain, South Africa - November 16, 2008 - What our next hike lacked in distance or elevation gain, it made up for by being in an exotic location. On the first day of our trip to South Africa Alan, Jonna and our friend Corinna took the cable car to the top of Table Mountain and then hiked around up on top. The hike was only a mile and a half long but it was a spectacular thing to get to experience.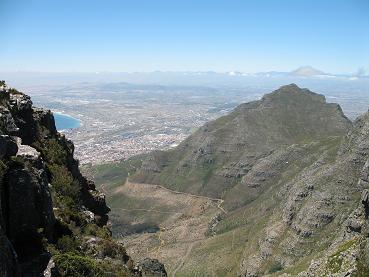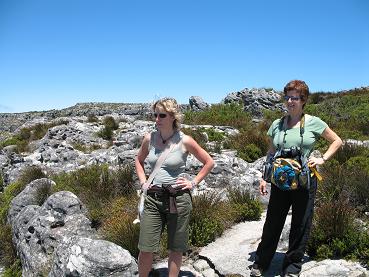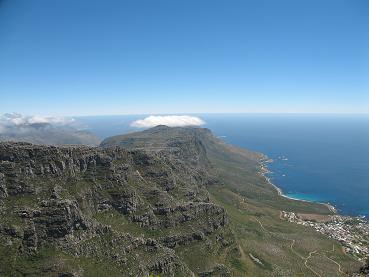 31) Lost Lake, CO - December 21, 2008 - For our final hike of the year Alan, Jonna and Holly headed up to the Hessie trailhead for a blustery snow shoe hike into Lost Lake. It was about 18 degrees, so we didn't stick around long at the lake but it was a nice choice for our first snow shoe of the winter.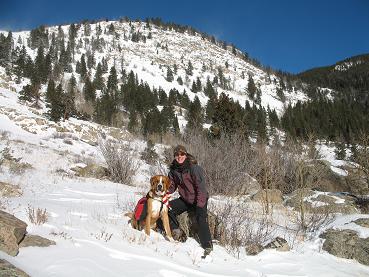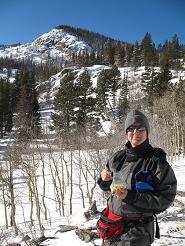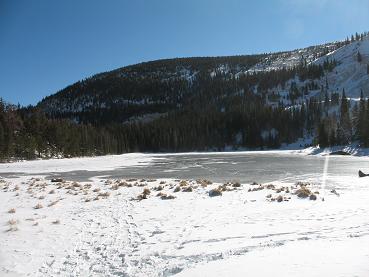 If you enjoyed these you may also enjoy checking out some photos from our 2007 hikes or our 2009 hikes.

Return to Alan's Hiking Page

Return to Alan's Home Page
---
Alan Fleming